The story isn't over for this 'Brave' senior lacrosse player
It was a crisp fall day, the perfect setting for a late night football game in small town Ohio. The Talawanda Brave were playing the Monroe Hornets at Monroe High School. 
A 5-foot-10-inch senior playing a new position at outside linebacker had designs on sacking the opposing quarterback. Although the move was clean and executed with perfect form, the result left tackler Nick Engelhard with a left arm injury.
Engelhard continued to play through the rest of the 2021 football season, earning Southwest Ohio Conference (SWOC) honorable mention. In the winter, he transitioned to wrestling, which meant he could compete for a shot at the state championship in his weight class – a dream of his since he was young.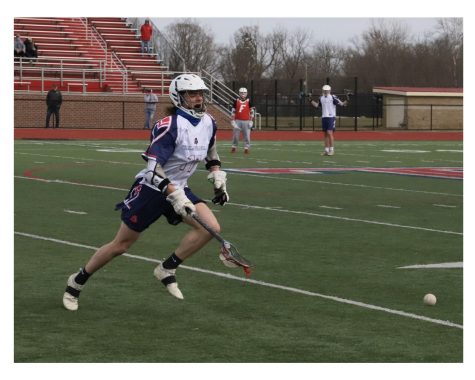 Unfortunately, Engelhard's senior wrestling season quickly came to an end after practicing with a teammate further injured his arm. Medical tests revealed that cartilage in his left shoulder was torn. And just like that, Engelhard's dream of making it to the state tournament was gone. 
As the 2022 spring sports season started up, Engelhard did not let his injury become the final chapter in his multi-sport Talawanda career. He has played lacrosse since the seventh grade and has been a key player for the Brave, including last season's 10-5 Ohio Division II campaign. 
This season Engelhard finds himself in a new role on the team with the ultimate goal of getting back onto the field as soon as possible. The team plays its third game of the season Saturday, April 2, at Turpin.
"He's really helped me with drills during practice…and he's always asking, 'what can I help you with, coach,'" first year lacrosse head coach Sawyer Johnson said. 
Even from the sidelines, Engelhard continues to be a positive influence. 
"As a teammate, he's always positive. Always telling you to keep your head up and he'll help you out if you ever need anything. He's always right there next to you to offer help," teammate Caleb Bogseth said. 
In a lacrosse game last season, the team was down by three points against Seven Hills in the playoffs. 
"Me and him brought it back to a one [point difference] after hyping each other up on the sidelines. We still lost but it was a good memory with him," teammate Jonathan Hall recalled.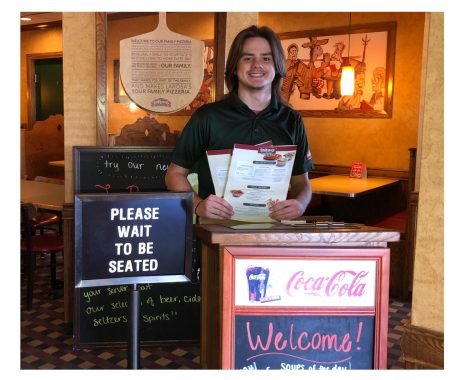 "I'm not the type of person to fall over when stuff gets hard, especially during games. For example, Talawanda football has never been the best program, but this year when I played, I felt like I was able to help boost the atmosphere and emotion. I'm hoping I can do the same with the lacrosse team this year," Engelhard said.
Away from the field, Engelhard is busy balancing his work life. He has already completed his graduation requirements which now allows him to participate in Talawanda's work program. He currently works as a cook, server, and host at LaRosa's Pizzeria in Oxford. Engelhard values this new experience as it allows him to develop a work ethic outside of the sports. After high school graduation this May, he plans to begin working for Lithko Contracting.