Openly bisexual Miami baseball player makes impact on, off the field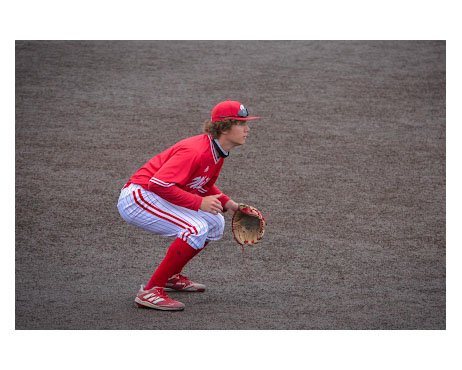 Digging his spikes into the box, tapping his Rawlings Velo bat on the plate and loading his weight onto his backfoot, he waits for the pitch. The public address announcer welcomes him to the plate: "Now batting for your Miami RedHawks, second baseman, number six, Brian Zapp."
What the crowd does not hear is that Zapp – who is openly bisexual – is likely making his biggest impact off the field. After the RedHawk infielder's decision last year to come out, he has become an advocate for other athletes struggling to be open with their sexuality. 
Growing up in a competitive household in Waterloo, Ontario, with his older brother Greg keeping him on his toes and parents that just wanted their kids to stay active, it is no surprise that Zapp has played almost every sport ending with "ball." However, Zapp always had big league dreams growing up as a Toronto Blue Jays fan. "I decided I wanted to pursue it at the college level when I was 12 or 13, but as soon as I started playing, it was my favorite sport," he said. 
Zapp followed his passion for baseball, but also knew he wanted to pursue a degree in business. While attending a high school baseball showcase in Cincinnati he made a visit to Oxford to see Miami's campus and meet with the RedHawks coaching staff. ​​
"This was one of the schools that was at the top, I loved it, I came here on my visit, I had a great time, so I wasn't gonna wait around," Zapp explained. He accepted his offer to become a student-athlete at Miami within 24 hours. 
As much as baseball gave Zapp opportunities for personal growth, he said it was also one of the biggest deterrents to coming out about his sexuality. 
"I think I would've come out by the end of high school if I weren't in sports. It was scary thinking about trying to be recruited, there are coaches in this country that wouldn't want that, even if they're not against it, they don't want the drama," Zapp said.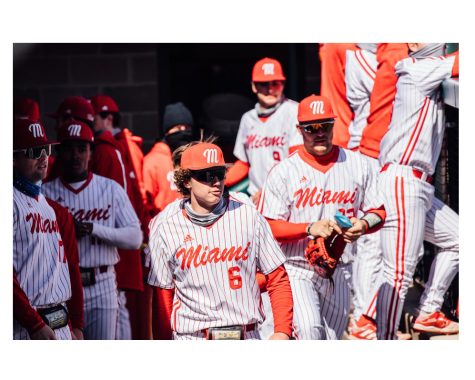 Fear of locker room judgment and whispers in the stands weighed on Zapp's mind for years. But it wasn't a singular moment or event that pushed Zapp to want to show his true self, it was actually a person. In the Fall of 2021, Zapp was in a relationship that ultimately ended because he was not ready to go public.
 "I knew it wasn't fair to him, so I ended the relationship," Zapp said. As difficult as the decision was for Zapp, losing someone he cared about was a driving force that pushed him to address what he was struggling with.
After eight years of struggling with his sexuality, the constant worrying and fear began to take a mental toll. Normal conversations became battles of "what ifs" and "what will they think of me." 
In December 2020, Zapp wrote a letter to his mother expressing all the thoughts, fears and emotions he had been internalizing for years. For nearly a year before he came out publicly,  Zapp's mother was the only one who knew about his sexuality. Leading up to his official coming out post, Zapp began telling a few close friends and family, allowing him to share that part of his life with the people he loved. 
One year after writing that letter, Zapp shared the same news with the world on Instagram.  He hit "post," threw his phone to the other side of the car and started on his seven hour drive back home to Waterloo for winter break. 
"I'm bisexual," Zapp bluntly stated in a 400 word Instagram post. "I wrote that over two weeks, I wanted to think about it, it was hard, it was scary, it was the hardest thing I've ever done in my life and probably will be for a long time. When I posted it was pure fear but also exciting that it was just kinda done. I ripped the Band-Aid off," Zapp said. 
Zapp's post received an outpouring of love and support from both people close to him and those he had never met.
"He's himself, and it's so cool to see. I've seen him grow and just be comfortable being him and he's not going to change that for someone else or other people" said Stephen Krause, one of Zapp's RedHawks teammates. 
A number of  athletes reached out within minutes of his Instagram post, sharing similar struggles and applauding him for making the decision to come out publicly. "The goal was to come out for me, but I also know that the majority of my followers are athletes, so the goal was to also bring awareness to it, so that maybe in the locker room and team practice they kinda realize that they don't really know who's around them and to watch how they act and watch what they say because it could affect others" said Zapp.
Miami Baseball has an "Open Door" policy which has helped ensure that Zapp always feels comfortable with the coaching staff and teammates.  
"If I ever hear anything negative from the stands, there'd be 40 guys out of the dugout, and Coach (Daniel) Hayden would be the first one out," said Zapp, when asked about potential pushback from opposing teams or fans.
Through 17 games this year playing, primarily third base, the junior has a .275 batting average with two home runs. 
The RedHawks (8-13, 5-6 MAC) travel to DeKalb, Illinois for a four game series against Northern Illinois University April 1-3.