Murphy puts multi-sport background to use for Miami softball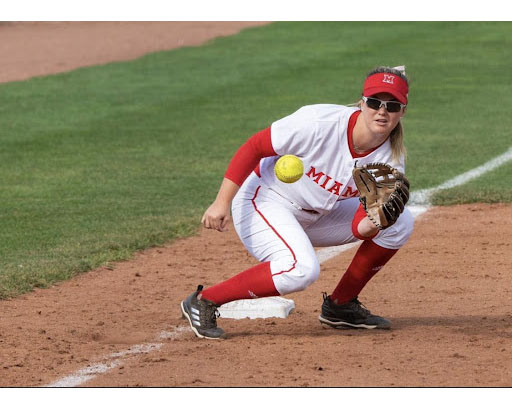 Miami RedHawk infielder Maggie Murphy faced an intimidating, loud and passionate crowd in early March on a clear night in Tuscaloosa, Alabama. She worked the count full, and then, on a 3-2 pitch, Alabama's pitcher made a mistake.  
"The pitcher threw the ball right down the middle and I swung. It was all so surreal. I didn't even notice the crowd because I was so in the moment."
That swing earned Murphy her first collegiate home run and solidified her role as an early contributor for the RedHawks. Through eight games, Murphy has started her Miami career with a .333 batting average, two home runs and three runs batted in. Despite her quick success at the collegiate level, softball was not Murphy's only athletic priority growing up in Novi, Michigan.
Murphy was immersed within her home state's ice hockey culture from a young age, as many Michigan natives are. Her parents supported and coached her in two sports: hockey and softball. As a natural competitor, Murphy said she had the passion and drive for both. 
Murphy finished her sophomore high school hockey season as a state champion. Her team capped off an unbeaten regular season with a 4-2 win over their rival school. That joy would turn to agony two years later, however, as Maggie's final playoff run was cut short by a heartbreaking, five overtime loss in the state semifinals.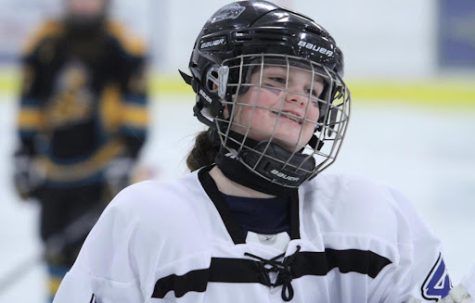 Despite her success on the ice, Maggie's love for softball ran deep, and the diamond proved to be too important to turn down. 
"When I saw my sister take her dreams to the next level. I realized 'Oh, I could do it too,'" she said. "That shaped me into the softball player I am today." 
Watching her older sister's college games and practicing in the family yard helped grow Murphy's love for softball. During showcase tournaments throughout high school, she began to receive more attention, as college coaches lined up for the chance to bring her to their programs, including Miami.
During her junior year in high school, following a campus visit to Oxford, she officially committed to the RedHawk softball program. "I had been talking to some other coaches. When I came to Miami, I knew this is where I wanted to be." said Murphy. 
The feeling remains mutual between Maggie and Miami Softball Head Coach Kirin Kumar. 
"Maggie is one of those student athletes that every coach hopes for. She is intelligent, athletic and a team player." Kumar said.
Murphy credits the family-like atmosphere within the team and coaching staff as a major reason for her decision to sign with Miami.  Sophomore infielder Sidney Jones said Murphy especially embodies this approach to team-building on and off the diamond. 
"She always wants to hangout and be included in everything. She is always there and always good to have around… She's a person you can be with and it's never a dull moment." said Jones. 
Kumar echoed that sentiment. "She is extremely witty and funny. If you ever get the chance to be around her, she'll always make you smile." 
The RedHawks will be hoping Murphy provides more smiles this weekend, as Miami opens its defense of their Mid-American Conference (MAC) title against Kent State University, March 18 and 19  at home.