Miami's Asian American Association has in-person 'Fusion' event
Miami University's Asian American Association (AAA), a student organization meant to showcase and celebrate several diverse Asian cultures, held its annual Fusion event Saturday, March 12 in Harry T. Wilks Theater in Armstrong Student Center, to an audience of nearly 300 students, community members and organization alumni.
Fusion is run as a sequence of live performances both by members of the organization and a number of outside talents. AAA Organizational Chair Janna Maddox said that although she and Creative Chair Lily Freiberg had near-complete creative control over its lineup, she wanted to keep the fundamental parts of past Fusion events intact this year after a hiatus in its traditional execution. 
"Essentially, Fusion consists of a fashion show, dances and skits," Maddox said. "It's been so long since the last (in-person Fusion) that only the senior class really knows what it looks like. We wanted to keep some of the stuff from past Fusions intact, because it's important to bring that perspective back and show people why it mattered and still matters."
Because of coronavirus restrictions, 2020's Fusion had to be canceled at the very last minute, meaning the association lost nine months of intensive preparational work to the onset of the pandemic. Freiberg playfully characterized this period as "the Fusion that never was," but 2021's Fusion successfully came to fruition in a virtual format, with individual segments being filmed and edited on a much smaller scale. 
The tumultuous recent history of the event means that this year's Fusion was the first one to be held in-person since spring 2019, a time before Freiberg or Maddox were involved with the organization. Now, as AAA's central executive team, the enormity of the project was entirely in their hands.
"This was basically our first Fusion," Freiberg said, "We didn't really know how it was supposed to go. We had a lot of previous co-chairs who were pointing us to ideas of what it should look like, but we could've done something totally new if we wanted. It was basically all on our shoulders.
The pair's creative freedom with the event was "a little scary" according to Maddox, especially considering the daunting task of directing performers with varying levels of experience. However, Maddox insisted that welcoming people with a variety of experiential backgrounds represented an essential part of the organization's mission.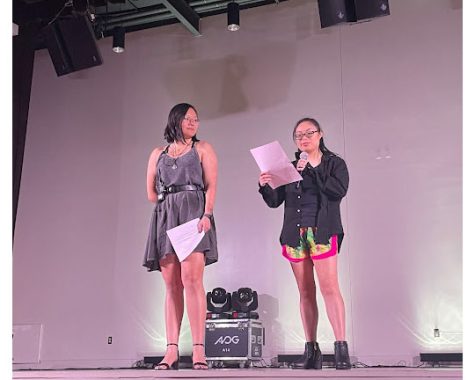 "Whether you have dancing or acting experience or not, [Fusion] is an event for our members and our community to learn more about Asian culture and just get involved," Maddox said.
Freiberg spent the winter term penning a script for the skit portion of the show, a loose parody of Kevin Kwan's "Crazy Rich Asians," which fell in line with Maddox's philosophy by relying strictly on volunteers for its cast.
"We didn't have any (auditions)," Freiberg said, "people just signed up. Sometimes you have to work around having people who don't have as much experience, but some of those people really surprise you."
Certain acts, like K-pop dance crew O'Nite Vibes, stood out to Freiberg and Maddox as especially professional and experienced. Five dancers from the extensive crew performed complex choreography to TOMORROW X TOGETHER's song "No Rules" as an interlude between portions of the skit. Freiberg, who has more than a decade of dancing experience, remembered being impressed by the group when she watched them rehearse. 
"They just have so much energy, and they're so fun," she said. "Working with them, they just really feel like celebrities."
The group's dance was one among many intermittent numbers meant to demonstrate both contemporary and traditional performances from various cultures. The fashion show that opened the event functioned similarly, showcasing members in the cultural wardrobe of a multitude of Asian countries. 
Only an hour and a half passed between then and the curtain call, and the pair remembered how fast the whole thing felt, especially as a culmination of tireless work that began in August of last year. 
"I was very in my head, and not just because of all the flashing lights," Maddox said. "It was just seeing all those people out there and having them all be so supportive."
To Maddox, these feelings of support and community were both the primary reason for Fusion and for the organization.
"Having that kind of community, even if sometimes I was stressed out of my mind, it's an amazing thing to be around," she said. "A lot of people say AAA is a family, and there's really no denying that."