Miami celebrates first spring break in two years
Miami University will have its first real spring break in two years, Monday, March 21 through Sunday, March 27. 
In 2021 the school replaced the week-long break with five, disconnected "Wellness Days" spread throughout the semester. The idea was created to incentivize students to stay on campus and relax one day at a time, rather than go home and come back to Oxford, potentially causing a spike in the spread of COVID-19. 
In the spring of 2020, students were sent home because of COVID-19 concerns before the break could begin. Today, students and staff are looking forward to regaining normalcy as safely as possible. 
Ally Johnson is a junior majoring in art education and art therapy at Miami. Despite being in her third year of college, this is Johnston's first official spring break. She said she plans to go to Florida during the break to visit her uncle.  
Johnson said that while spring break can be a busy time to travel, she feels safe enough to do so this year.
"I know spring break . . . is like really crazy. I've seen a bunch of videos of everything being super crowded, but I think it should be fine," Johnson said. "I am going to relax by myself and just hang out with my family."
Johnson said that she is excited to leave Oxford; so much so that she even has a countdown on her phone that tracks how soon her flight leaves. She said that she is looking forward to being out of Oxford for more than just a day or two.
"I'm also excited to get away from everything besides school," Johnson said. "Oxford's really fun, it just gets to be a lot sometimes."
Other students, including sophomore Emma Beck, also are excited to leave Oxford. While Beck is looking forward to traveling to Colorado with a friend this spring break, she said that she does occasionally miss "wellness days" where she could catch up on homework and hang out with friends.
"If I wanted to just stay in my room and watch movies, I could. I like the little break that (wellness days) gave you randomly," Beck said.
Other students are also looking forward to having a long time to rest, including sophomore psychology major Jessie Boy. Boy said she plans on returning to her hometown of Bellefontaine, Ohio to work and see her friends over the spring break.
"I'm really excited," Boy said. "I need the break. I've been so busy and exhausted and burnt out from everything, but I just need like a week to like to regroup."
While Boy is not vacationing anywhere, she said that many of her friends are. She said that she believes factors like the decrease in mask mandates and high vaccination rates have helped people feel more ready to travel despite COVID's ongoing prevalence.
"I think people probably feel a lot more like comfortable traveling now knowing that it's safer for them to do so and there's still mask mandates on planes and such so I feel like that's a good factor," Boy said.
However, despite students feeling safer to travel, Boy said that the lack of spring break for the past two years could influence students to make riskier decisions.
"I think they'll definitely go a little bit crazier than intended, just because it's been so long since having a proper spring… I think they'll still be safe about it in a way though just because they do know their limits," Boy said.
Boy said she has appreciated the educational efforts being made by the HAWKS Peer Health Educators.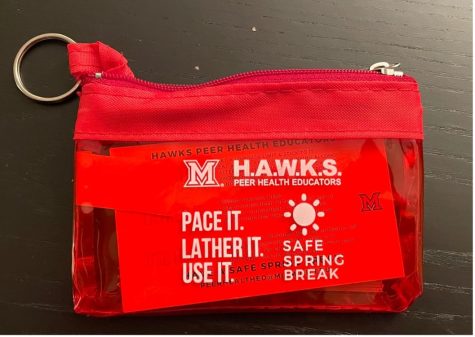 According to its website, the HAWKS focuses on helping students learn from other students in a way that provides information, promotes discussion, and engages students in education. The student members of the group are trained in health education and wellness, and they work toward providing tools for students to make good choices.
Leslie Haxby McNeill is an assistant director in the office of student wellness at Miami and the supervisor of HAWKS. Haxby McNeill said that the HAWKS have made many efforts to educate students about spring break safety regarding alcohol consumption, sun safety, and smart sexual decision-making.
The group distributes information around campus in hopes that students will begin to understand the message. This year, for their Safe Spring Break campaign, the group utilized A-frames, social media, dorm bulletin boards, TV ads in campus buildings, and tabling events.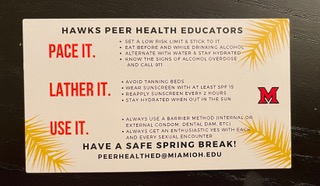 "We know from health promotion and the research is that people need to hear a message multiple times and some of the researchers indicate you need to hear the message seven times before it sticks," Haxby Mcneill said "You're not getting everybody on every one of those, but the hope is that eventually, everybody sees something."
Haxby McNeill said she doesn't know if students will be taking more risks after not having a spring break for two years, but she does worry they may have forgotten basic safety tips including keeping their phones charged and avoiding looking like tourists.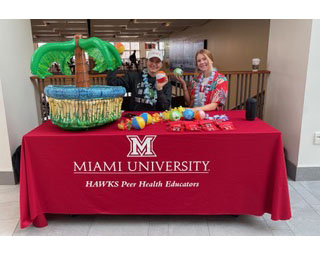 "You don't have to sit on the beach for six or eight hours. You don't have to drive 28 hours. Just pump the brakes and take it easy; it's supposed to be vacation," Haxby McNeill said. "You want to make good memories and not the kind of memories you don't want to have."
Riley Palanca is a freshman undecided major at Miami. Palanca said that if people have been having a hard semester, a relaxing spring break could be the perfect chance to recharge
"It's like taking a mental health day, but you're not missing class," Palanca said. " I don't generally skip class even if I'm not in the best state of mind, because I'm always worried about something. This is the mental health week."
If he could give any advice to his classmates, Palanca said he'd simply tell them to stay safe.
"Stay with your friends. Don't go off the strangers. Don't go to anything where you feel uncomfortable." Palanca said "Keep yourself healthy. Don't put yourself in a situation where you can potentially get hurt or worse end up somewhere you don't know where you are."
Miami University will resume classes Monday, March 28.