National Weather Service looks for storm spotter volunteers
The National Weather Service (NWS), which hosts yearly Skywarn Storm Spotter training sessions, needs volunteers to help report significant weather reports as storm spotters for the upcoming tornado and spring flooding season in Southwest Ohio. 
The NWS office in Wilmington, Ohio uses Doppler radar and satellite imagery as its primary tools to detect severe weather for their County Warning Area, according to their spotter guide, but it still wants human eyes scanning the horizon.  
Even though the Doppler radar enables the NWS to estimate reflectivity, the amount or strength of the signal, velocity and the direction in which the air is moving, the radar cannot detect on-the-ground data for far away locations the way that people can. 
"Spotters help us save lives," Matthew Campbell, meteorologist at the NWS office in Wilmington, Ohio, said during a virtual training session for spotters this past Tuesday, Feb. 22.  "They create actionable outcomes to help the community." 
Spotters help provide real-time verification to add credibility, enhancing public response, and improving warning accuracy, Campbell said.
Even though spotters are helpful, the NWS urges individuals to keep out of harm's way, not spot at night, or to chase after storms.
This year, the service will have two more virtual training courses: Thursday, March 24, and Monday, April 18. The courses are free, open to the public, and require registration. 
The Feb. 22 training session had 425 people in attendance, with about 50% of attendees re-watching the session as a refresher, according to a poll taken during the session. 
The NWS issues a daily hazardous weather outlook before 6 a.m. If there is significant weather, it will be updated more frequently. On these statements, spotters are urged to report any severe weather reports to the NWS.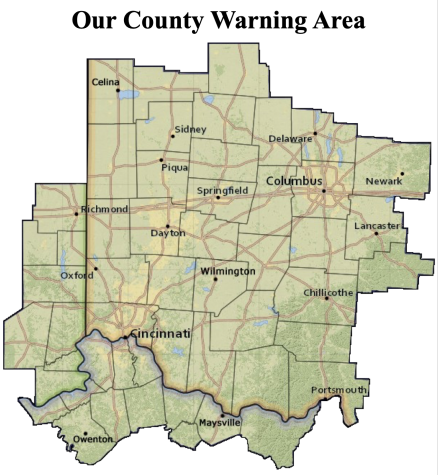 Spotters can help NWS issue special weather statements, watch, warning, and tornado emergencies. 
Significant or severe weather to report includes tornadoes, funnel clouds, wall clouds, persistent rotation in clouds, hail that is ½ an inch in diameter or larger, trees or multiple limbs downed, any severe weather damage, and one inch or more of rain in an hour, according to the NWS.
To submit a report, spotters call (800) 899-2748 or report to the amateur radio in your jurisdiction. For Butler County, the amateur radio network is W8NWS at 146.880 MHz and 147.375 MHz.
The report must include the exact time and duration of the event, specific descriptions of the type of weather event, and the exact location of the weather event by including references to nearby cities, cross streets or latitude and longitude coordinates.
"(Reporting) is simple. I learned a lot (in training)," said Teddy P., a resident of Reily Township and registered storm spotter. He asked that his full name not be used to protect his privacy. "I do think it is helpful in the community to have people trained." 
Teddy P. attended two training classes, the last in March of 2019. He reported severe weather to the NWS about five times regarding severe rainstorms and twice for flash flooding. 
Miami University has been a recognized NWS "StormReady University" since April of 2019. StormReady is a national voluntary program encouraging communities to take proactive approaches to improve local weather operations. 
The goal behind acquiring the certification was in part for the safety of the outdoor sporting events that Miami hosts.
"I was aware of this StormReady certification because I did have some storm spotting connections with the National Weather Service," said Phillip Johnson, associate director of sports and facility services at Miami. "I worked with the university police that oversees the entire campus and their severe weather safety and communication. It was a collaboration between our two departments to meet the certification requirements to be considered a StormReady university." 
As part of its annual training, Miami University Police Department (MUPD)'s officers complete the NWS Skywarn spotter training session, said MUPD Captain James Bechtolt.
MUPD uses various methods of mass communication to share weather updates: SMS emergency texts, emails, the blue light machines on campus, the VOIP emergency phone system at the university, university websites, and Miami desktop network notifications. 
When a weather emergency comes into MUPD, the emergency dispatch officers, including Bechtolt, determine which methods are used for notification depending on whether classes are in session and the time of day. MUPD's default methods of mass communications are email and SMS text.
For certification, a community must establish a 24-hour warning point and an emergency operations center, have more than one way to receive severe warnings and alert the public, ensure the warning point and emergency operations center can monitor local weather, ensure hazardous weather and flooding are addressed in formal emergency management plans, conduct community preparedness programs, and establish an effective working relationship with the emergency management agency and the local National Weather Service forecast office. 
MUPD tests its emergency systems multiple times a year, Bechtolt said. 
The certification is valid for three years and can be renewed every two years. Miami was given a year reprieve because of the COVID-19 pandemic, making the current certification expire in 2023.
In 2019, Miami hosted the spotter training session on campus, and plans to host the event, if in-person, every year they renew. During that session, roughly 50 people attended the class, including at least 25 students, Johnson said.
During the renewal application, an individual from the NWS will come to Miami and walk through the campus, to verify that the university is up to standards.  
Many faculty and staff who handle game operations, athletic trainers, students involved in supervising outdoor activities, staff members in sports and facility services are urged to attend the NWS spotter programs, Johnson said. 
"The more people trained and know what to look for, the better," Johnson said.