Miami Softball seeks to defend MAC title
Miami University women's softball is back to defend its Mid-American Conference title this spring. 
The RedHawks put together one of its best seasons in program history in 2021, smashing every record and team in their path to a 46-10 record and NCAA tournament appearance. 
The RedHawks' dominance was rewarded with a top ranking among coaches this year in the MAC preseason poll, receiving all 11 first place votes available. How does a team with this much success and expectation stay sharp ahead of a grueling season?
"It (the coaches' poll) doesn't affect us too much. We like to prove people right or wrong depending on what side they are on, but we tend to just focus on ourselves," said Adriana Barlow, the team's senior shortstop. 
Miami's non-conference schedule is filled week-in, week-out with Power Five competition. The RedHawks will face schools such as Louisville, Alabama and Kentucky before defending their MAC title. Despite the challenges ahead, the team remains confident.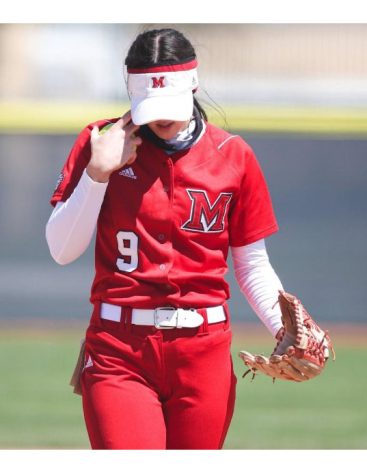 "We want to prove ourselves to people that have doubted us. Being a mid-major school, people can look over us, and we want to show them that we can play with the top-25 schools and we can win those games," said Brianna Pratt, 
The senior 2nd team All-MAC selection was a key member of the Redhawk's pitching staff in 2021, earning 13 wins with a 2.76 earned run average.
The team is managed by head coach Kirin Kumar, entering her second year at the helm. She began her career at the University of Tulsa as an assistant coach and from there coached at UNC, Western Kentucky University, NC State and Virginia Tech before becoming the head coach at Miami. Despite her wealth of expertise, Kumar's team still catches her by surprise.
"The team can hold each other accountable, and they understand the difference between teammates and friends. The dynamic is one where I allow a little bit of freedom to them in managing their own team," Kumar said. 
This season, Miami is returning seven All-MAC selections and seven new freshmen. Despite the success achieved in the previous season, Kumar is aware of the challenges that come with trying to replicate a dominant season.
"What happened last season is not going to have any bearing on what's going to happen this year," she said. 
The team opened its season last week against Bradley, IUPUI and Tennessee State in Nashville, Tennessee finishing the series with a 2-3 record. Miami has four games in South Carolina before its first home game on March 2 against Louisville.