Group launches campaign to unionize Miami's faculty
The American Association of University Professors (AAUP) announced a campaign to try to unionize Miami's faculty, saying the move is necessary to improve working conditions, governance, academic freedom and compensation. 
AAUP has had a chapter at Miami for several years but has never been recognized as a bargaining agent for the faculty. Cathy Wagner, an English professor and president of the AAUP chapter, said she has been working toward recognition of the union by the university for the past two years.
AAUP announced the launch of its campaign called the Faculty Alliance of Miami (FAM)  Feb. 2
Founded in 1915, the AAUP website said the union's mission includes improving higher education by promoting economic security and advancing academic freedom and governance. The association has chapters across the country and even if it is not the official bargaining agent of a university, the association still works to promote its mission through advocacy. 
If Miami's approximately 1,400 full-time faculty members were to unionize through the AAUP, it would not be the first university in Ohio to do so. Miami would be the 10th four-year public university in Ohio to have a unionized faculty, according to the AAUP website. 
Geography professor and Oxford City Council member David Prytherch said that if the university unionized, it could impact Oxford.
"The single greatest source of revenue for the city of Oxford is the income tax and Miami is the largest employer so any changes in the number of employees or their compensation have a direct impact on city services," Prytherch said.
Kevin Reuning, an assistant professor of political science at Miami, said that union campaigns often occur when employees have a problem with their employer that they are unable to fix given their current conditions. These issues can include things like pay, harassment or time off. 
"They can't get their employer to listen to them individually, so instead they work towards forming a union to have their concerns dealt with that way," Reuning said.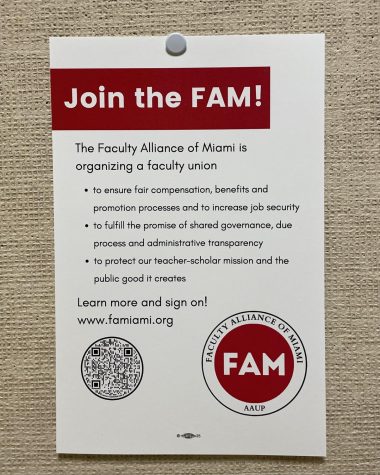 In announcing the campaign last week, Wagner noted that one precipitating factor for taking the action was Miami's decision in 2020 to cut about half of its 220 visiting assistant professors as part of budget cuts caused by the pandemic. Those cuts resulted in larger teaching loads for faculty who remained on staff.
Last week, Miami released a statement about the unionization attempt on its university news and events page:
"We value our productive and positive relationship with our primary university governing body, University Senate, which is a democratic body and reservoir of knowledge composed of students, faculty, staff, and administrators where we discuss university issues and through true collective decision-making arrive at conclusions on the policies and actions of the university," the university wrote. "We are highly committed to the success of our faculty, staff, and students as we work together to achieve our student-centered mission." 
Several other public universities in Ohio also have collective bargaining contracts with AAUP as their agent. The University of Cincinnati entered a contract with the association in 1974 and represents approximately 1,700 people. Kent State University has two different bargaining agreements, one for full-time tenure track professors and one for full-time nontenure track professors. In 2021, Bowling Green State University came to agreement to extend its current contract by two years.
To potentially reach a final agreement, the next big step for FAM in the unionization process would be to file a petition to the State Employee Relations Board (SERB) which is the organization responsible for administering the Ohio Public Employees' Collective Bargaining Act.
If Miami's faculty unionizes, it would not be the first public employee union in Oxford.
On Feb. 1, Oxford City Council approved its first contract with a recently created firefighters' union. Jeremy Smith, president of the City of Oxford Professional Firefighters Local 5272, said that the union agreement is a good step towards the department's future. 
"Our driving force behind everything is that we just want a platform to speak from…we just want to be able to sit down and kind of get across the issues that the firefighters and paramedics face here, and we just felt like that was the best way to be able to bring our message across," Smith said. 
Smith added that he thinks unions have the potential to greatly benefit employees depending on their activity and goals. For his organization, he believes that unionizing will better allow firefighters and paramedics to focus on their number one concern of protecting citizens and maintaining a safe city. 
"For us, I think it was definitely the right move and I think we're all pretty happy," Smith said.
Another union in Oxford is the Talawanda Educators Association (TEA), representing the teachers in the Talawanda School District. Matt Lykins, co-president  of TEA, said the main purposes of the union is to bargain collectively on behalf of the union members, to ensure the three-year contract is being followed, and to provide support to teachers. 
"I want to make sure that there's a good support system for personnel, so they don't have to worry about a lot of stuff or at least know that the resources are available and willing to talk to them if they do have a question," Lykins said. 
In addition to supporting teachers on a day-to-day basis, Lykins said that TEA also provides free attorneys to teachers if a legal issue were to occur within the school. While not every teacher has joined the TEA, Lykins said that approximately 88% of the district's teachers are members of the union.
Reuning said that in most unionization attempts, there is a vote where all the employees who would potentially be in the union can decide if they would like to unionize or not.
If the majority vote in favor, then the union becomes the legally recognized, official bargaining agent for that organization's employees. Only at this point would negotiations for employee contracting between faculty and the university can begin.