Oxford may get two medical marijuana dispensaries
Two medical marijuana dispensaries are likely to be operating in Oxford later this year, based on a lottery of provisional dispensary licenses (PDL) held by the Ohio Board of Pharmacy last week. 
Results from the lottery were announced Monday, Jan. 31, and companies wanting to open dispensaries on Southpointe Drive and College Corner Pike were among the top three applicants for the district that includes Butler, Preble and Darke Counties.
Ohio has had 60 licensed dispensaries since  2017, shortly after medical marijuana was legalized in 2016. The state plans to award another 73 licenses this year, spread among the eight multi-county districts.  The state received more than 1,400 applications for the 73 licenses to be awarded, and 20 of those applications were for sites in Oxford. 
The Board of Pharmacy ranked those selected with a formula that takes in the number of people who have been issued medical permits by physicians to obtain medical marijuana. District 2, which includes Oxford, is eligible for five dispensaries, but currently has only two, one in Seven Mile and one in the Monroe area. 
The board will now review the lottery winners to make sure they meet all the eligibility requirements to operate in the state. Once that process is complete, the licenses will be awarded, and the dispensaries can open.
"We don't have a firm deadline yet, but we are hoping for an announcement (of awarded PDLs) sometime this spring," said Cameron McNamee, director of policy and communications for the Ohio Board of Pharmacy. 
The review of applications will be conducted by members of the Ohio Board of Pharmacy team. Individual employees from different sections of the agency are doing different reviews, to hopefully speed up the process and be more efficient, McNamee said.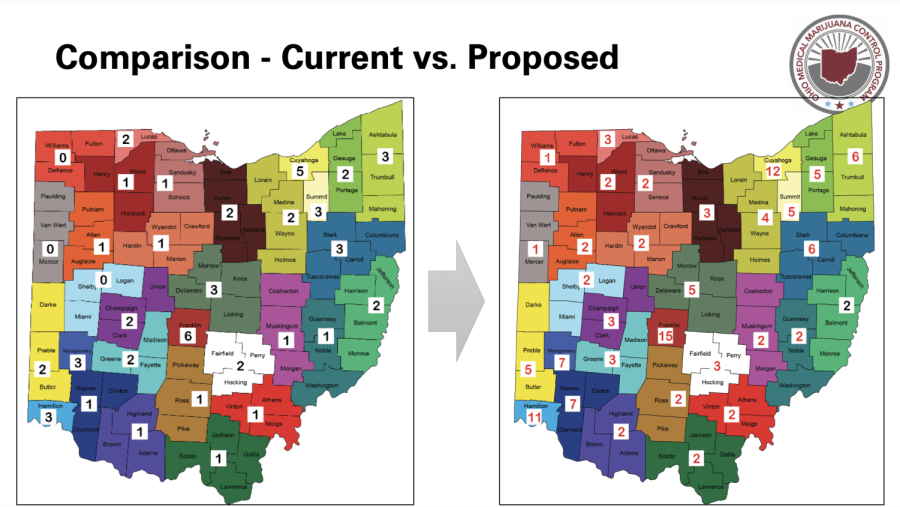 Elise Clawson, junior education studies and art history major at Miami University from Akron, has had a medical marijuana license allowing her to buy marijuana products for chronic headaches since 2020. 
Clawson applied for her license from the Ohio Medical Marijuana Control Program on the Ohio Marijuana Registry website. She went to her neurologist to receive documentation of her chronic headaches. 
Clawson was then assigned a physician, for an online Telehealth appointment, to which she would provide her proper documentation of qualifying conditions. Her physician spoke to her about the surrounding laws and expectations around a medical marijuana license. The appointment only lasted 10 minutes, Clawson said. 
After waiting about two weeks, she received an email for approval for a license, with a PDF attachment of her card that she had to print out.
"They do it based on the amount of days," Clawson said. "So, I would buy edible gummies in three packs of 11 and would have 33 days' worth of product and would be able to use my card again in 33 days. But it depends on the product you buy." 
Under the law, medical marijuana cannot be sold in a smokable form. It can be in oils, lotions, or edibles. The law also prohibits dispensaries from being within 500 feet of a school, church, public library, public park or public playground. 
In the Oxford area, Clawson goes to Bloom Medicinals at 403 S. Main St. in Seven Mile, one of the two dispensaries already in District 2. At home in Akron, she goes to another Bloom Medicinals chain. 
The state estimates there are now more than 100,000 Ohioans with licenses like Clawson's.
"Dispensaries located in Oxford will definitely make my product more accessible," Clawson said. She would be interested to see how many people would try to apply for medical cards if dispensaries opened in Oxford. 
The top three applications in the lottery for dispensaries in District 2 are: Shangri-La Dispensary Ohio, LLC with a dispensary located in Monroe; RJK Holding of Ohio, LLC, proposing a dispensary in Oxford; and LMTT LLC, also proposing a dispensary in Oxford.
RJK Holdings of Ohio, LLC put in 12 applications for PDLs in various locations in Ohio, in the recent lottery, including the one in Oxford.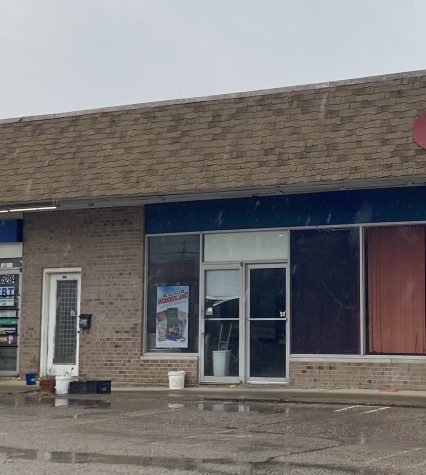 "We fully expect to make it through the verification process, get the license at that location, be able to complete the buildout of our location, and open up as soon as possible," Paula Givens, consultant for RJK Holdings, said. 
On its application, the company listed 5280 College Corner Pike, now a vacant business location, as the address for the dispensary. RJK Holdings of Ohio, LLC has leased that property since November of 2021, Givens said. 
"We operate dispensaries in Michigan, and we like the small-town feel [of Oxford]," Givens said. "We really like Oxford, and College Corner Pike is a good location with the redevelopment. It is going to contribute to the look and the feel of that roadway."
The company was very excited to be placed second in the results. 
"We are going to want to be an open book to the public," Givens said. "We realize that when a cannabis retailer comes into a community, not everybody is going to have the same level of comfort with it. We are going to hold an open house before opening so people can come meet us and see what it's all about and see the security features. We want to become involved in the community." 
LMTT LLC, which proposes to open in a location on Southpointe Drive, could not be reached for comment. 
During the previous selection process in 2017, the Ohio Board of Pharmacy had to score each application, taking them about eight months to announce awarded PDLs. 
"Because of the subjective nature of scoring every single application, we then had to deal with lawsuits for about two years after," McNamee said. "Because we are doing a drawing and then doing a straightforward review, it should be more streamlined process and hopefully be far less litigious." 
The awarded PDLs will be announced at an Ohio Board of Pharmacy board meeting, which are live streamed to the public, once the final review has been completed, McNamee said. A list of the winners will also be posted to their website, so the applicants and public are aware of who is awarded PDLs.