Goggin Center hosts three-day youth hockey tournament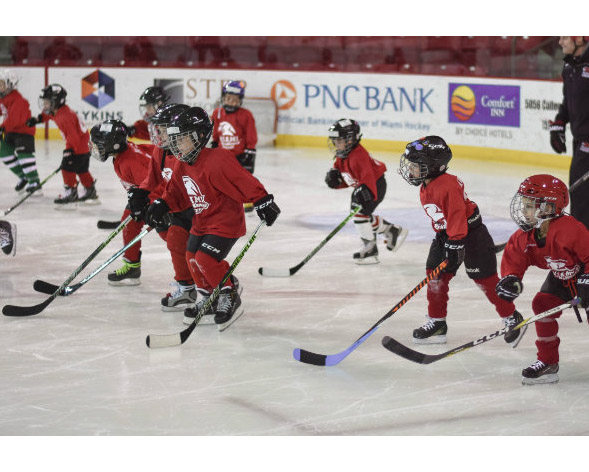 Goggin Ice Center hosts The Bear Youth Hockey Tournament this weekend, running games from the evening of Jan. 14 through late Monday, Jan. 17.
Twenty-four teams will compete in the tournament, with about half coming from out of state. The event brings in an economic bump for Goggin, especially during a time when the ice center might not be as busy with most Miami students on winter break, said hockey director Greg Austin.
"[Goggin] operates as a business, and tournaments provide us a source of income for the rink and for the university," said Austin.
The Bear Hockey Tournament is run by Big Bear Tournaments, an organization that puts on youth hockey events across the country. The ages of players range from about 10 to 14, or as they're referred to in hockey: Squirt, Peewee and Bantam. Goggin provides the facility and staff, but this organization brings in its own referees.
Big Bear Owner Bruce Coleman said the Miami facility is a destination for many hockey fans.
"It's a very nice ice rink, combined with a Tier 1 ice team," said Coleman. "People visit the college…it's a nice place to play hockey."
The tournament will kick off at 5 p.m. Friday, with games happening throughout the evening. Saturday will be the busiest day for players, along with championships in each age group happening Sunday and Monday. The full tournament schedule can be found here.
While Big Bear doesn't have any COVID-19 health requirements for players and teams to be able to participate, Goggin is adhering to Miami requirements of masks and social distancing when possible. When they are not on the ice, players must be masked, and everyone in the stands.
Kevin Ackley is the senior director of Goggin and a coach of one of the teams competing in the tournament: Miami Youth Hockey's 10UAA travel team, the Miami Jr. Redhawks. He said his players have looked forward to the tournament for quite some time.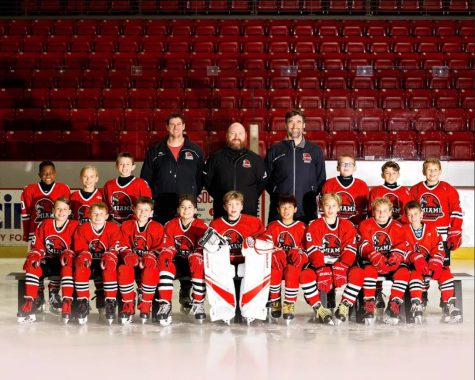 "I think the kids are always excited, especially to play a tournament at Goggin," Ackley said. "I think most of the kids haven't had that experience." 
This is the second time Goggin has hosted a Big Bear tournament during the pandemic.
Both Ackley and Austin say doing so gives the young players, many of whom have been impacted by COVID-19 in other aspects of their lives, a sense of normalcy.
"Going and doing something that they've been doing for, in a lot of cases, for a number of years for a lot of these players, I think that's something that everybody misses in our lives," said Austin. "Yes, they do have to wear masks, socially distance and all those types of things, but…they're out there with their friends, their teammates, they've got their families in the stands."
In Austin's opinion, Big Bear puts on a "really good experience" for the players. The winners and runners-up receive medals, and the winning teams in each age group receive a banner for their home rink.
The first puck drops for The Bear Hockey Tournament at 5 p.m. Friday at Goggin Ice Center.