Rabbi leads Chabad group to provide a place for Jewish students
Yossi Greenberg has dedicated his life to making sure every Jewish student at Miami University has a place where they feel at home.
Miami  has an undergraduate population of just over 16,000 and approximately 6% are Jewish. Chabad is one of two Jewish organizations on campus — the other is Hillel — that helps students explore their beliefs and develop leadership skills.
The Chabad movement was born when Rabbi Menachem Schneerson came to America after the Holocaust in 1941. Schneerson was the leader of a small group of very religious Jews. His charisma helped create a movement of Jewish outreach and engagement.
Today, Chabad has become the fastest growing "one-stop shop for everything Jewish," found in over 100  countries and all 50 states.  According to the Pew Research Center's Study of Jewish Americans in 2020, 16% of all Jews in the United States have participated in Chabad activities. 
Greenberg, his wife Mushka and their four children have been in Oxford for nine years. When they were still dating, Greenberg worked in Cincinnati. Knowing that Yossi wanted to get involved in Jewish education, a friend pointed out that the University of Cincinnati and Ohio State University had Chabads, but not Miami. They came to Oxford to look, and in November 2013 they moved in.
The Oxford operation is affiliated with Chabad on Campus: an international Jewish education group that has Chabad houses on hundreds of campuses.
"We wanted to create a home away from home for Jewish students," Greenberg said, "to allow them to grow mentally, spiritually, physically and emotionally… to be a little oasis of Judaism in a place where students are nonstop busy with academics."
And they succeeded. Through weekly Friday night dinners home-cooked by Mushka, educational classes, or one-on-one coffee dates with students, Chabad offers a non-judgmental family where students come to relax and be themselves.
 "The people are the mission. That is what makes us so successful," Greenberg said. "I don't have quotas to fill. I can spend my entire day educating one student, and I won't get fired. I don't measure my success by people. For me it is the quality of the relationships I am building with young Jewish students."
Most Chabad events are held at the Greenberg family home on Spring Street. Students are welcome to walk in at any time and make themselves comfortable.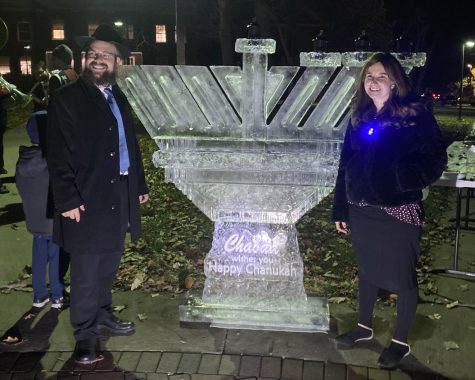 Tess Cohen-Dumani is a sophomore from Bethesda, Maryland. As someone who grew up surrounded by Jewish friends, coming to Miami and being the first Jewish person her peers have met was a bit of a shock.
"It was really hard. I didn't have people that I could relate to in that way," Dumani said. "But once I started going to Chabad, it felt like home, like a family. When I'm upset, or homesick, or stressed, Chabad is always there for me."
When the young rabbi and his family arrived in 2013, they did not know anyone, but they came with a vision. For nine years, Chabad has been able to successfully operate with generous donations from alumni, friends and family, as well as funding they receive from Miami.
Neil Cohen is a Miami alum who graduated in 1980. He is the owner of Cohen Recycling, a local business. Once a month, Greenberg and Cohen touch base about the progression and accomplishments of Chabad in Oxford.
"I was shocked to see how many students get involved. I just did not think he would have that kind of outpour, and it speaks to the kind of person he is," Cohen said. "Having a Jewish option for students when they are away from home is a critical component to their well-being, and this is offered in excellent ways, both through Hillel and Chabad."
Judaism is not "one-size-fits-all." While Hillel and Chabad are two different Jewish organizations on campus, they share the common goal of getting students involved in Jewish life and community leadership. Many students often attend events at both organizations.
Greenberg explains, while Chabad is an outreach program, Hillel is a Jewish resource for college students on campus. The organizations have different styles and use different approaches to engagement. It is very important to have both options open to students, he said.
There are three main branches of Judaism: Reform, Conservative and Orthodox. Of those three, Orthodox is the most traditionally religious.
"There are no Orthodox students on campus… if I were to just program for Orthodox students, I would be out of a job," Greenberg said. "[Chabad's] not a movement where you have to look or act like anyone else. It's the ideas and programs that students fall in love with."
Greenberg does not subscribe to labels. He said he feels labels make it impossible to grow. The purpose of Chabad is to make each day better than the next. For many Miami students, Chabad has done just that.