Threat on bathroom wall locks down Talawanda High School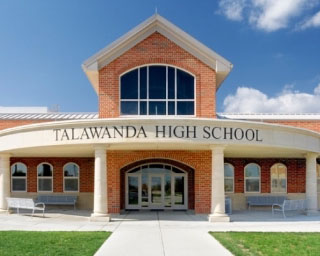 A threat scribbled on a bathroom wall prompted the lockdown of Talawanda High School for about 90 minutes Friday. The district also canceled all home and away athletic events scheduled for Friday, according to a posting on the school district's website.
According an 11:20 a.m. posting, students were kept in their fourth period class after the threat was discovered on the wall of a bathroom stall. Visitors were not allowed into the building during the lockdown.
Oxford Police responded to the school were thoroughly searching it throughout the afternoon, according to a second announcement posted by the district's communications office at 1:04 p.m.
"Out of an abundance of caution," the district decided to call an early end to the school day at the high school and at Talawanda Middle School, the posting said. 
About an hour and 20 minutes after the lockdown began, the high school began a controlled release of students to parents, buses and of student drivers, under the direction of the police, the posting said.