Billy Simms expresses the importance of art for all ages
The five parts of a comic are genre, plot, setting, characters and pictures. Artist and educator Billy Simms begins his comic class with this reminder as four students sit patiently waiting to start drawing.  
The students, all around 8- or 9-years-old, chime in with answers to the questions that Simms asks. 
They sit in front of their cameras on Zoom watching Simms draw an oval on his page. Today's lesson; characters. 
"I'm using a pen so that you can see what I'm doing, but I want you guys to start off with light pencil lines, alright?" Simms says as he begins his instructions.  
Simms is an artist who teaches at the Fitton Center for Creative Arts in a refurbished theater building in Hamilton, Ohio. He instructs a printmaking course for adults and a comics studio class for children ages 7-10. He also teaches a sprint course in printmaking at Miami University.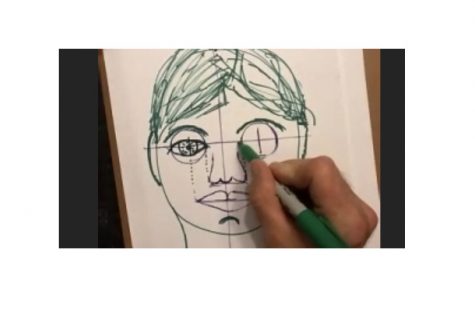 Simms studied at the University of Maryland and received his undergraduate degree in technical theater. Later, he went back to graduate school and received a degree in special education. In 2017, he graduated from Miami University with a masters degree in studio art. 
He went on to teach special education for 15 years before becoming an art teacher. He says his background in special education helped him to be an even better educator in the arts. 
"That background helps you to be a better teacher in any situation," Simms said. "You can approach something, see what someone knows, see what they need to learn, and you know how to tailor it for them."
Simms took a brief hiatus from his personal work following a show at Pyramid Hill, an outdoor sculpture garden in Hamilton, in 2020. He spent a year working nonstop to prepare for it and only recently started creating again. 
Now, Simms has a piece of artwork featured in the Miami University Art Museum's Faculty and Alumni Exhibition. The cast bronze sculpture is part of his "Ulysses Project," a series of pieces in various mediums inspired by the novel by James Joyce.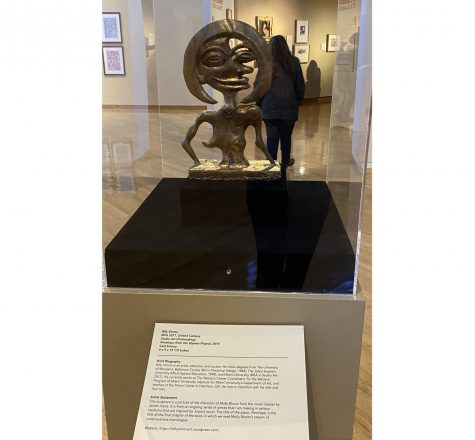 Simms has worked in a variety of mediums, from printmaking to woodworking to large scale sculptures and even baseball caps. 
"In theater, when someone comes up with an idea for a show and what needs to be done, it doesn't matter if you know how to do it," Simms said. "You have to figure out how you can accomplish the goal that has been set in front of you." 
Simms has taken the same approach with his art.   
"If there's an image I want to make, I have to decide what would make it better," Simms said. 
When teaching, Simms knows it's important to slow down the lesson if the students are having a difficult time grasping concepts. Typically, he provides examples and a demonstration and sits back to watch them work. From there, he can offer critiques whenever needed. 
According to Simms, one of the most impactful parts of being an art educator is seeing the students grow and develop their skills. Watching them work to become better artists is the most rewarding part of his teaching. 
"The first time people do our work, it may be fun for them," Simms said. "Whether it's, quote unquote, good is another thing. Everyone starts off somewhere. It's seeing that growth over time."
Simms wants to teach his students that it isn't just about the talent that you have, but the effort and time that you are willing to put into your work.
"I know talent exists," Simms said. "Some people are just genetically more inclined to things, but I really feel like it's more about effort. It's blood, sweat, toil and tears." 
Being able to introduce students to new experiences is another aspect that Simms loves about being an art educator. It brings families and friends together in a new environment away from social media and television. 
"It gets them out of the house and into the art building," Simms said. "It just gives you a different social circle and a different thing to do."
Arts organizations help bring the community together, uniting artists and residents over common interests. Simms is a member at Pyramid Hill, and he works to help organize events that bring the community together, like the annual Art and Music Festival.
Simms said he teaches his students to find inspiration in all parts of life, from art to books, magazines and music. By encouraging his students to find art everywhere, he hopes to motivate them to discover what they are most passionate about.