'Thankful Thursday' snack delivery helps Bogan students with speech, occupational therapy
For the past month, a snack and drink cart has rolled through the halls of Bogan Elementary School every Thursday morning and afternoon, inspiring gratitude toward teachers. 
The "Thankful Thursday" cart, decorated with colorful banners drawn by the kids, is filled with snacks, including chocolate, cereal bars, popcorn, apple crisps, crackers, cookies and nuts. For $1 a week, teachers are served by this special initiative.
Young students with a variety of special needs run the cart, manage deliveries and have an opportunity to practice a wide variety of skills that they are working on in occupational and speech/language therapy. 
The initiative, created by Occupational Therapist Lori Mills and Speech and Language Pathologist Kristen Vjada to get the kids out and about, existed before the pandemic and is now finally back at Bogan. Above all, it allows the children to work on functional communication skills.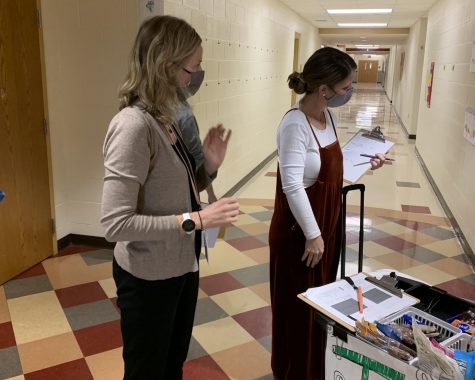 "They have been coming for one-on-one therapy which isn't very functional," Vjada said. "You learn how to say hello to one person, but everyone greets you differently."
Starting at 9:30 a.m., Mills and Vjada accompany the two students handling the cart on their way through the building, making sure that they greet the teachers, ask for their orders, respond to a "thank you" with "you're welcome" and hand the teacher a thank you card.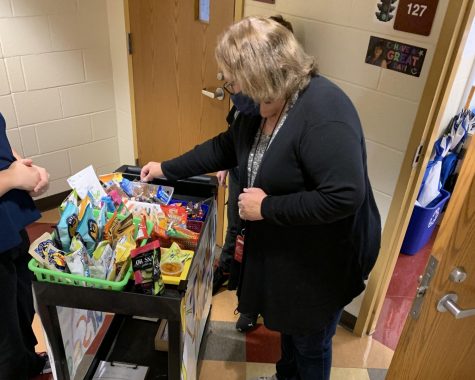 The students get to read the delivery schedule and check off each delivery after they have completed their visit before heading to the next classroom.  
"The ultimate goal is to help these kids be as independent as possible," Vjada said. 
"Thankful Thursday" helps these students to make Bogan a tighter community, as the students  get to know every staff person working in the school, Mills said.
The children "all have different needs. They are all working on work skills, independence, being able to complete a task without an adult prompting them all the way through it," she said. 
Some snacks are in high demand. The week before Thanksgiving featured a new special: pickles.
"We had pickles, but we ran out," the chatty student manning the cart told every teacher on his delivery tour. 
"Some people like those Star Crunches from Little Debbie," Mills said smiling. "It is probably something they would never buy for themselves, but when they see it, they always pick those up." 
"Some people like healthier options, so we are trying to tailor to that too," Vjada added.
Kindergarten teacher Sarah Currier is on the delivery schedule each week and particularly enjoys the children's smiles and the cards —  a " beautiful piece of art that usually has a sweet saying on it," she said.
"They are spreading joy to staff throughout the building with their sweet smiles," Currier said. "Today I received [a card] that said 'no rain, no flowers.' It stuck with me all day and made my heart smile."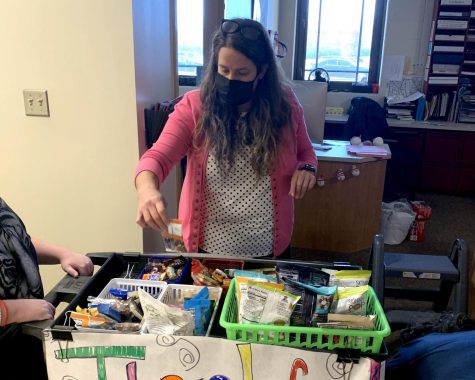 At the end of the activity, the children who handled the cart that day get to talk about their experience: what they liked and didn't like, and how "Thankful Thursday" made them feel that day.
The initiative has been well-received by both teachers and students. Mills and Vjada have all their students color cards, thereby participating in the Thursday activity. They ask about whether they can make thankful cards for other people as well, and whether they will get their turn on deliveries one day, Mills said.
Looking forward, Mills and Vjada are considering offering some Christmas specials now that Thanksgiving has passed.
"We are hoping that Thursdays are just a little spirit of gratefulness," Mills said.