Academic team to compete in Ohio regional competition
1 — What author wrote about characters who live in the Great Plains of Nebraska in novels like "O Pioneers!" and "One of Ours?"
2 — What Italian sculptor depicted the title natural features as personifications in "Fountain of the Four Rivers?"
3 — What river, which is formed by the confluence of the Allegheny and Monongahela Rivers, joins the Mississippi River at Cairo, Illinois?
(answers at bottom of the story)
These questions were taken from the 2021 Ohio Academic Competition (OAC) regional competition. Members of the Talawanda High School Academic Challenge (AcChal) team have mastered questions like these to compete against other Ohio high school academic teams.
On Tuesday and Thursday afternoons, physics teacher Scott Schmid's classroom is transformed into a practice space for the Brave's AcChal team.
The AcChal team competes in two teams of four in lively and challenging head-to-head competitions in which they answer questions based on general areas of knowledge and expertise such as literature, history, fine arts, science, sports and more.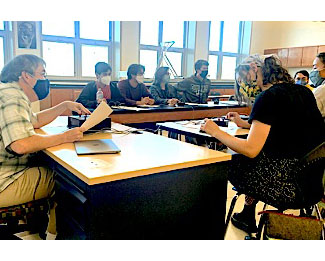 At practice, the varsity and junior varsity AcChal players run through previous match questions to prepare for future competitions. The players wait eagerly with their hands resting atop a buzzer on the desk in front of them as Schmid fires off questions. The player to buzz in first gets an opportunity to answer, and if they're correct, they win a point for their team.
THS senior and varsity AcChal player Daryl Zazycki said the team runs through two matches at each practice. Though, Zazycki notes that the best AcChal players prepare outside of Schmid's classroom.
"To get really good you have to study on your own time," Zazycki said. "There's a big database of old question packets, but also flashcards and scouring through Wikipedia pages."
Zazycki also said the longer he's played on the AcChal team, the more equipped he feels to answer the intellectually rigorous questions.
"At first, when you get thrown into it, it seems like it's all just random knowledge, but you start to notice patterns and different clues that come up a lot," Zazycki said. "So just learning those you can make really big steps at getting better."
According to Schmid, who has coached the AcChal team for 21 years, each player brings unique areas of expertise and knowledge to the team.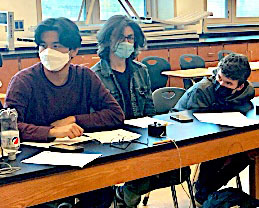 "Putting together a team, you have people who are specialists and people who know lots of things," Schmid said. "We just had a tournament and (Zazycki), for instance, picked up a lot of fine arts. He studied really hard to get those things because we weren't very good at them."
Zazycki, who also runs cross country and track at Talawanda, said the AcChal team allows him to exercise his love for learning.
"You can work hard and get better, but it's not like running, where you have to feel horrible to get better," Zazycki said. "You can just have fun the whole time."
According to Schmid, the THS AcChal team has won in the Southwest Ohio Conference (SWOC) league for the last few years. The team went on to place 10th at the state championships in the spring of 2021. 
While Schmid hopes the AcChal team moves on to state again in 2022, he said, "My first goal is we have fun and it's a good time."
"They're good kids," Schmid said. "They're great kids. They're so much fun to be around. For some of them, they do lots of things in the school. For some (others) of them, this is their only thing, and it can be something they're really good at and a chance to shine."
Schmid said he's confident in the AcChal team and the success they hope for in the 2021-2022 season. 
The team has competed in several matches and will continue their season through spring 2022 where they hope to compete at the state championship on April 30.
(Answers to questions at the top of the story: #1 – Willa Cather is the author of "O Pioneers!" and "One of Ours"; #2 — Gian Lorenzo Bernini sculpted the "Fountain of the Four Rivers;"  #3 – The Monongahela and Allegheny meet to form the Ohio River.)