Oxford's Bird scooters hibernate for the winter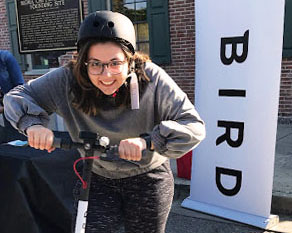 Bird scooters unavailable in Oxford during winter months 
As the winter months and snowy weather arrive, Bird is preparing for the hibernation of its Oxford scooter fleet.
"At this time, we are preparing the full hibernation of our vehicles in Oxford," Bird employee Julia Latimer said.  The danger of using the scooters on slippery, winter streets. The fact that most students are out of town for winter break throughout much of December and January are the reasons for the removal. "Bird's priority is the safety of our riders, and our vehicles will not be deployed if it is not safe to ride," Latimer said.
An exact date for the scooter removal has not been set. Bird will be monitoring the weather in the coming weeks, and soon will pull its scooters from the city. Latimer emphasized the need for discretion when riding Bird scooters in cold and icy weather.
Latimer reported the following safety measures as imperative for winter riding:
Stay Warm and Visible: When you're bundling up for your ride, ensure that you're wearing bright colors whenever possible and consider wearing a flashing light and/or applying reflective tape to your helmet, backpack or jacket. Shorter days mean less daylight, so make sure you're easily visible no matter what time you're riding.

Never Drink and Ride: If you're drinking alcohol at any time during the winter holiday season, DO NOT RIDE AN E-SCOOTER. Not only does it put you and others at risk, but it's against the law and will get you banned from Bird.

Take it Slow: All vehicles take longer to stop in inclement weather. E-scooters are no exception. Rain, snow and ice can make for slippery and unpredictable road conditions, so ride slowly and give ample space between you and the rider in front of you to ensure you're in control of your ride at all times.

Make Yourself Heard: Sound is a great way to let pedestrians, cyclists, drivers and other scooter riders know you're approaching. Use Bird's friendly-sounding bell, or your own voice, to ensure that road users are aware of your presence.

Pay Attention to Parking: Snowy winter weather can mean narrower lanes and reduced sidewalk space for pedestrians. When your ride is over, always ensure that your Bird is parked neatly in an approved parking zone. Never block pavements/sidewalks, access ramps, cycle paths or any other public area. 
 Regarding when the Birds will return, Latimer says it will be left to mother nature. 
"We will continue monitoring the weather and will be prepared to launch our vehicles again as soon as we are able," Latimer said.