Miami Recreation helps students stay healthy with Caravan app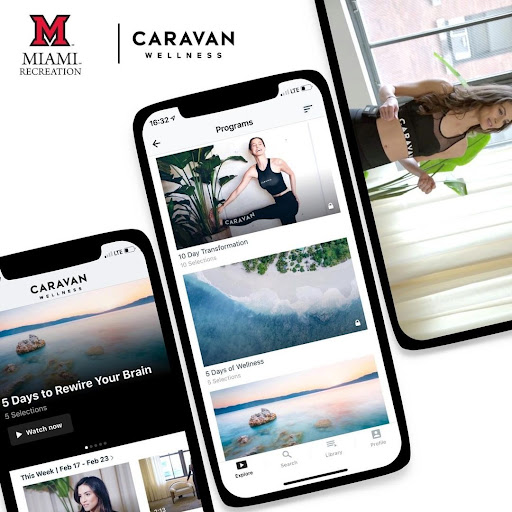 Miami University approaches the one-year mark of its partnership with Caravan Wellness. 
The partnership offers the fitness app to students, faculty and staff at no cost.
In 2020, Miami Recreation (the Rec) decided it needed to provide COVID-friendly fitness resources to Miami affiliates who still weren't comfortable exercising in-person. 
According to Mike Arnos, senior director of programs and academic partnerships at the Rec, he and fellow Rec leaders originally considered creating virtual fitness classes themselves. 
"For us to create it in-house seemed to be something more than we thought we would want to take on to compete with the industry that already exists," Arnos said. "And, we found this Caravan (app) a little unique."
Arnos said Caravan develops an exclusive Miami program each month designed to reduce daily stress and to improve mental and physical health. With a variety of virtual meditation, yoga and fitness classes, Caravan provides a holistic approach to well-being.
"To me, it goes really well to supplement a person coming to the Rec to do an in-person 20 minutes on a treadmill or 45-minute weight training," Arnos said.
According to Arnos, about 700 Miami users have downloaded the app after the launch of the partnership in December 2020. This fall, he said, registration is down to about 500.
Arnos attributes the decline in Caravan users to an increase in Miami students, faculty and staff heading back to the Rec for in-person fitness. 
"We want people to be here, we want them to connect with other people who also like basketball or who also like treadmills," Arnos said. "That really can bridge the gap between genders, races, ages and such. You don't get that in a video. You don't get that human connection – what I call that authentically Miami, authentically Oxford type of connection."
However, Arnos also notes that Caravan brings a unique approach to wellness that's new to Miami.
"If you're a person who likes to work out at two in the morning you've got the opportunity to just simply pull up the video," Arnos said. "If it's raining, pouring, snowing or a hurricane outside, you can still get your exercise. So, I think the videos really help with accessibility."
Though the Miami and Caravan Wellness partnership began as a COVID-19 initiative, Arnos said the Rec doesn't plan to discontinue its work with the app anytime soon.
"Do I think it's going to change the way of exercise and wellness through Miami in the future? No," Arnos said. "But I do think it adds to the programs we already have. (Caravan) lines up really well with our vision and philosophy."
Click here to sign up, or download the Caravan app on the App Store or Google Play.