Construction of Kettering medical building resumes
The Kettering Health Network medical building resumed construction after a building delay. Located at 4137 Oxford Millville Road, the center was originally planned to finish in fall 2020. 
"Now that they're moving forward with construction, their plan is to have the facility complete by July 2022," said Oxford City Manager Doug Elliott. 
The groundbreaking for the center took place in October 2019. According to Elliott, the center was originally supposed to cost $4.5 million and be a 12,000 square foot facility, but is now expanded to 15,000 square feet. The center is intended to provide outpatient services including cardiology, gynecology and general surgery. 
Michelle Day, senior public relations specialist for Kettering Health, said "(Kettering) looks forward to serving the community."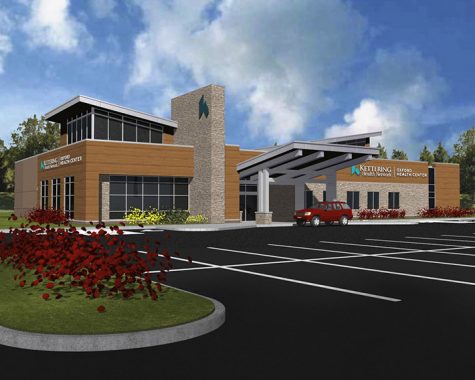 When asked about the current cost of building and reasons behind the construction delay, Kettering declined to comment. Day said more information would be shared closer to the office opening in mid-2022. 
On the construction schedule, Elliott said he doesn't know the exact reasons for the pause, "… though I can't help but think it had to do with COVID. Obviously, a lot of things got stalled and of course, material costs have gone up." 
Kettering, based in Dayton, also owns Fort Hamilton Hospital, in Hamilton. The company has a center located in Oxford, the Indian Creek Family Health Center at 10 N Locust St. "In fact, I go to a physician who is part of that center," said Elliott. "I don't know the exact reasons for them choosing to build a new facility in Oxford," he added. 
At the 2019 groundbreaking ceremony for the Oxford project, Kettering CEO Fred Manchur said 60% of the company's services were performed in outpatient facilities such as the one being built in Oxford. At the time, Kettering officials said the company might build more facilities on its 17-acre site in Oxford.
When pressed this week for more details on why Kettering is expanding in Oxford, Day said only that "Kettering Health is excited to offer additional high-quality health care to Oxford." 
Elliott said he definitely welcomed the expansion. "This will be a new facility for my physician to practice in," he said. 
"We'll have a new facility with Kettering Physician Network and that will provide additional space for a primary care physician and specialists," he said. "I think the projection was that this would add 20 jobs to the city, so that's good." 
Kettering Health has 2,608 providers, 13 medical centers, and 400 locations, including hospitals.