Wilks Institute hosts city council candidate leadership event
Oxford City Council candidates came together Tuesday, Oct. 26, with Miami University's Wilks Institute for Leadership and Service to discuss making community-based change through leadership. 
All four unopposed candidates were there: incumbents David Prytherch and Chantel Raghu; and newcomers Amber Franklin and Alex French. The event was part of the Wilks Institute's ongoing series "Lesson in Leadership." This one was titled "Lessons in Leadership: Meet Your Local Changemakers."  
Miami sophomore Cameron Tiefenthaler moderated the discussion, which was held in Wilks Theater in Armstrong Student Center. The event was also livestreamed on the theater's Instagram account. 
The candidates discussed a variety of topics, including their campaign platforms, what it has been like running unopposed and what they anticipate their biggest challenge will be during the next council term. 
Prytherch warned his fellow candidates that getting elected is just the first step, and the real challenge is organizing the city to govern effectively.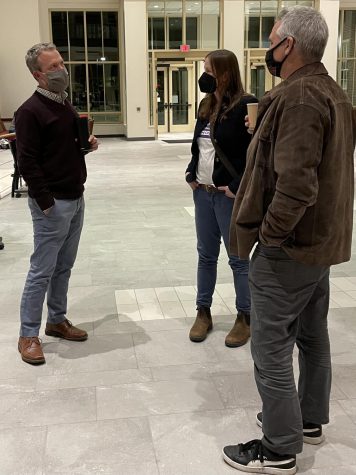 "I think one of the most challenging things I have faced is 'How do you actualize the capacity that you have as an elected official to make change?'" Prytherch said. "If change were easy, it would happen on its own. Systems have a ton of inertia to them. Even in as small a town as Oxford, there are certain pathways that people are just used to following."
Each candidate shared policies they would like to see implemented in Oxford. French shared her vision for a 12-month economy for the City of Oxford, which she said she will accomplish by supporting business and bringing new businesses Uptown.
Franklin wants to see diverse and affordable housing options. She is also passionate about mental health and would like to see a social worker added to the Oxford Police Department. Franklin said she would like city council to begin holding town hall public discussions outside of the biweekly official meetings to create a more open dialogue with the community. 
Raghu is most passionate about sustainability, and would like to see more sustainable practices implemented in various parts of city life. She also wants to work on housing in Oxford, increasing both the supply and options.
Prytherch said he wants his legacy to be that he made the government more responsive. He is determined to get an Amtrak station in Oxford before his coming term ends, and also looks forward to continuing working on the bike trails and carbon neutrality.