Miami Outdoor Pursuit Center hosts Ghosts and Gears bike tour
Through its nearly 200-year history, Miami University has accrued a rich tradition of eerie tales that have become familiar to students, faculty and community members alike.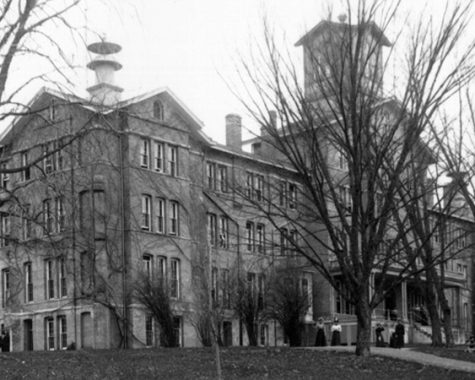 The Ghosts and Gears bike tour, offered through Miami's Outdoor Pursuit Center (OPC), offers a glimpse into some of the university's more sinister historical anecdotes.
The two-hour bike tour, operated by the Outdoor Pursuit Center during the Halloween season, takes brave riders to several of Miami's spookiest sites. 
According to Ghosts and Gears bike tour guide, Miami junior Cameron Cox, the tour departs from the OPC then heads to Western Campus, where riders pause to hear the story of Helen Peabody.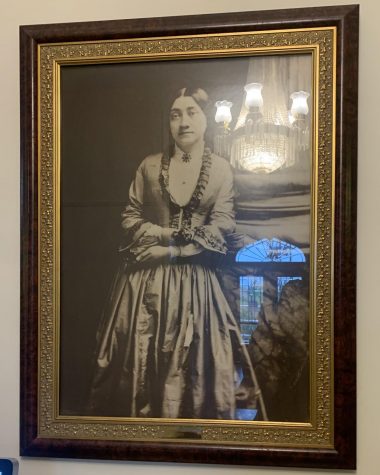 From 1855 to 1888, the prim and correct Helen Peabody served as principal of Western Female Seminary, located where Miami's Western Campus now stands. It was widely known that Peabody was a critic of coeducation. Some say she now roams the corridors of Peabody Hall, a freshmen dorm, protecting the female residents, while haunting the men.
"Peabody freaks me out, or the ghost of Helen Peabody, because there's been so many instances of paranormal stuff happening, which is really cool," said Jack Stevens, another Ghosts and Gears bike tour guide. 
After viewing the stern portrait of Peabody, Cox says the tour group bikes over to Cook Place and to the Marcum Conference Center. The center, which was once Fisher Hall, was the last place Miami student Ronald Tammen was seen alive.
Tammen went missing from his Fisher Hall dorm room in April 1953. His fate remains a mystery, though paranormal activity has been reported in the same area.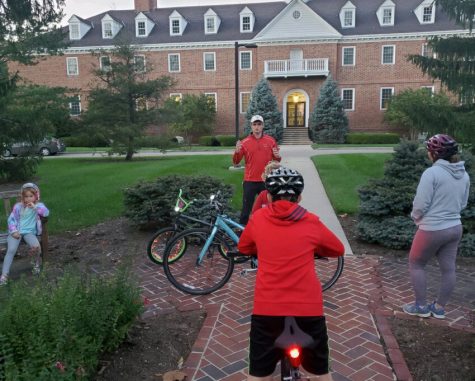 The tour continues to several other campus spots sharing chilling stories such as "the ghost biker" and Reid Hall's infamous bloody handprint. The tour concludes at King Library where cyclists are met with a warm cup of cider or hot chocolate.
The haunted bike tour is now in its fifth year, said Jen Siliko, director of the Outdoor Pursuit Center. 
Siliko said bikes and helmets are included for registered participants of the tour. Though, she notes that riders under 5-feet, 3-inches should bring their own bikes. Siliko also said the tour is most suited to those age 12 and older.
However, Miami professor Kyle Timmerman enjoyed the tour with his family which included several riders under the age of 12.
Timmerman is grateful that his family's guides, Stevens and Cox, were willing to spare some of the more graphic details to accommodate his younger children.
"They had a blast," Timmerman said of his children's experience on the tour. "I think that the tour guides were under instruction to keep the tour family-friendly. So, they did good. No major trauma or nightmares. It was just spooky enough."
Timmerman completed his undergraduate degree at Miami in 2000 and said events such as the Ghost and Gears bike tour are what make living in Oxford again so special.
"It's the really cool part of being back here as a faculty member with your family living in a college town like this," Timmerman said. "There are fun events like this that you can take advantage of."
Timmerman also said he's promoted the bike tour to his students since mid-September, encouraging them to get active while discovering Miami's spooky history, just in time for Halloween.
The Ghosts and Gears bike tour is available to Miami students, faculty and Oxford community members from 6 p.m. to 8 p.m. on Oct. 27, 28 and 29. Cost is $7 per person, which includes the rental of an adult size bicycle.
To register, visit the Outdoor Pursuit Center located at the Miami University Recreation Center. Registration is open until 5 p.m. the day of the tour.