Fire damages Hanover Reserve wedding venue
Emily Hopton and Jaron Weaver were supposed to tie the knot Oct. 22, at the Hanover Reserve Weddings & Events center, but had to shift their plans when the venue caught fire this past Sunday, during another wedding ceremony.
Hopton and Weaver have relocated their wedding to Horsepower Farms in Middletown. 
The fire at Hanover Reserve, 1905 Millville-Oxford Rd., started around 5 p.m. and took more than 70 firefighters and 100,000 gallons of water to put out, according to fire officials. The blaze was first put out around 9:30 p.m., but rekindled a few hours later, requiring more water.
According to Andy Ellinger, public information officer for the State Fire Marshal, the cause of the fire has not yet been determined, however, guests at the wedding interviewed on television at the fire, said the blaze started when a propane fireplace inside the building was lit. 
The building was safely evacuated and no injuries were reported, according to the fire marshal's office. The extent of the damage is still being assessed.
The unnamed wedding couple moved their ceremony outside, where the wedding was performed later in the evening, according to Ben Coblentz, a guest at the wedding who was interviewed on WLWT News 5. 
Hanover Reserve, which opened in May, was booked through Jan. 1 of 2023, according to the booking calendar on the venue's website, leaving many couples frantically searching for new venues.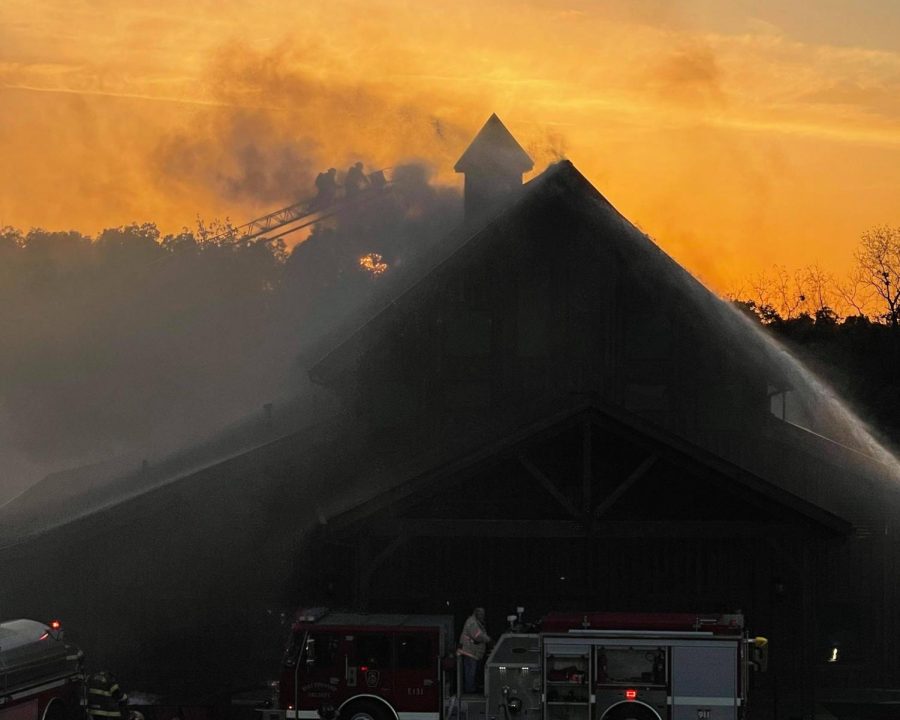 Jessica Hopton, bride-to-be Emily Hopton's sister and a wedding planner, said she sat down on Monday morning after hearing about the fire and called "everywhere [she] could think of."  After calling every place she could find and posting on multiple towns' Facebook pages, she got in touch with Horsepower Farms in Middletown, which typically hosts car shows, but has the capacity to safely accommodate a large wedding.  
Jessica, who owns her own event planning company called Bridal Bliss by Design, began planning her sister's 260-person wedding more than one year ago, in July of 2020. She said she had booked the Hanover Reserve before it was even finished being built after seeing the "beautiful and stunning" blueprints of the building. 
In Jessica's search to accommodate sleeping arrangements for 260 guests this weekend, most of whom are from out of town, she said that Oxford's Hampton Inn hotel went as far as to coordinate with Middletown's Hampton Inn to shuffle guest reservations so that wedding attendees could be in the same town as the new venue. The Hanover Reserve has also issued a full refund to Hopton and Weaver, she said.
Sunday night's fire has resulted in local businesses of all kinds stepping up to help as part of an initiative started on Facebook by the Pinball Garage, in Hamilton, Ohio. The arcade, whose owners have offered up their business' "large outdoor area" for free to couples in need, are asking caterers, events spaces and photographers to offer up services and discounts they can with the hashtag #HelpingHanover to those whose weddings were booked at the Hanover Reserve.  
The post received an overwhelming response and less than 24 hours after the fire broke out, nearly 30 businesses reached out to help.  
On Monday afternoon, the Hanover Reserve Facebook page posted a long message to the community, their clients and friends and family members, saying they were "overwhelmed with gratitude" and "this was not a total loss." The venue staff said they will continue updating the public in the weeks and months to come, according to the post.