Members of Kappa Alpha coach women's club soccer team
Friday evening of Sept. 24, the Miami University women's club soccer team played its biggest game of the season against Ohio State University. 
Glowing under the Cook Field stadium lights, spectators littered the sidelines in a sea of red showing their support for both teams. On the opposite side of the field, five fraternity brothers cheered heartily for the RedHawks.
These brothers are the Miami women's club soccer coaches.
According to the team's co-captain, Giuliana Grgic, members of the Kappa Alpha Order fraternity have served as the team's coaches for more than seven years.
"It's always a very intense hype vibe every time they're here," said Grgic. "When we're practicing, they're always helping us in any way. During the games, they're like our cheerleaders."
One of the five coaches, Nate Aliapoulios, said he and his brothers enjoy being a part of the team's three weekly practices and weekend games.

"We're taking it seriously because it's funny and fun to take it seriously when it's really not such," said Aliapoulios. "And that's why the team's so fun because everyone's serious about it because it's fun to compete and fun to care, but at the end of the day it's a club team and everyone's there to have fun."
Aliapoulios said he is the only one of the five coaches who has soccer experience. He played all four years of high school and served as his team's captain during his final season.
Due to his fellow coaches' lack of experience in the sport, Aliapoulios said they mostly rely on the team captains and upperclassmen to run practices.
"The coaching style is mostly letting the seniors and the captains do what they're supposed to do," said Aliapoulios. "They've been through this entire process. They know what works and they know what doesn't."
Miami lost that game to OSU, 3-0, but freshman player, Sam Mumper, agrees the brothers teach them less about soccer and more about life.
"Honestly it's a lot of fun," said Mumper. "They're basically our cheerleaders. They're all super supportive and if they teach us anything, they remind us to be positive with each other. I would say they teach us life values."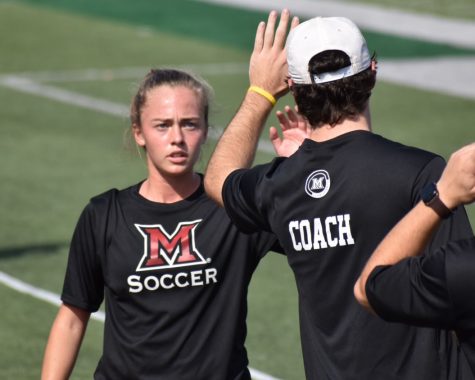 Mumper said her family has yet to come to a game, but they're entertained by the team's coaching situation.
"They think it's hilarious," said Mumper. "They're coming on Saturday, so they'll probably get a kick out of watching the guys."
The team has three regular season games left, including one this Saturday against the University of Cincinnati, before they are eligible to qualify for regionals.
The five coaches from Kappa Alpha Order fraternity will conclude their coaching careers at the end of this season. But for tradition's sake, new brothers of the fraternity will serve as coaches for the fall 2022 season.