Miami University hosts Homecoming weekend
Miami University's Homecoming weekend began Thursday, Oct. 14 and will end Saturday, Oct. 16. All three days are full of events, here is a short overview of the plans for Friday and Saturday.
Friday, Oct. 15
The Department of Art Faculty and Alumni art exhibit is on display from 10 a.m. to 5 p.m., in the Miami University Art Museum, 801 S. Patterson Ave. 
From 1 p.m. to 5 p.m. the McGuffey House and Museum, 401 E. Spring St., hosts an open house. Down the road, the International Student Center hosts its grand opening on the lower level of MacMillian Hall, 531 E. Spring St. The grand opening includes refreshments, a photo booth and a commemorative tree planting, from 3 p.m. to 5 p.m. 
The Homecoming Huddle begins at 7 p.m. in Armstrong Student Center, Shade Family Room. There is an opportunity to meet the homecoming court at 7:30 p.m. while the crowd gets excited for Miami's Saturday football game against the University of Akron. 
After meeting the homecoming court, guests are treated to a free performance from singer/songwriter (and Miami alum, class of '02) Griffin House, from 7 to 9:30 p.m., in the Shade Room of Armstrong Student Center. For one night, he returns to his alma mater after 15 years of performing and recording music. 
Miami University Alumni Association hosts the Young Alumni Reunion with the Classes of 2020 and 2021, 8 p.m. in Armstrong Student Center, Shade Family Room.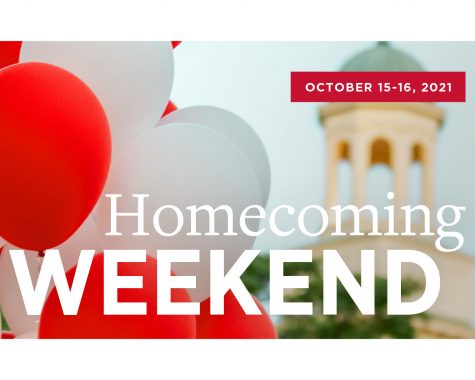 Saturday, Oct. 16:
Everyone is welcome to begin their morning at the Oxford Farmers' Market from 9 a.m. to noon in Uptown Park. Then, at 9:30 a.m. is the Miami Softball Hit-a-Thon, where guests can sponsor an athlete as they try to hit the ball as far as they can. 
Alumni are welcome to return to their respective college, each of which is hosting a "Donuts with the Dean." Students from the College of Arts and Science can meet Dean Chris Makaroff under the Upham Arch. For the College of Education, Health and Society, alumni can meet outside of Laws Hall. The College of Engineering and Computing hosts its event in the gardens behind Garland and Benton Halls. All events are from 9 a.m. to noon and donuts and coffee are provided. 
The College of Creative Arts hosts an open house from 9 a.m. to noon at the Miami University Arts Museum. There will be light refreshments and an opportunity to meet the CCA Dean and the MUAM Director and Chief Curator. 
The "Welcome Home: Residence Meet-Up and Tour" from 12:30 p.m. to 1:30 p.m. will give alumni an opportunity to see a newly renovated dorm at Hepburn Hall, 355 Tallawanda Rd. From 1 p.m. to 5 p.m. McGuffey House and Museum will host another open house. 
For Miami RedHawk Tailgating, the parking lots will open at 9:30 a.m. Kickoff is at 2:30 p.m. against the Akron Zips. Single game tickets start at $20 and can be purchased online at the Athletic Ticket Office website. The Love and Honor Cup Winners will be announced during the game.