Local candidates discuss issues in online forum
The five candidates competing for two seats on the Talawanda Board of Education voiced their concerns about critical race theory, COVID-19 policies, school finances and more during a virtual candidates' night, co-sponsored by the Oxford Observer and the League of Women Voters — Oxford,  Wednesday night.
The forum was moderated by reporter Emily Scott from the Observer and the LWV's Jenny Fisher. The forum was recorded and may be viewed online here. It was broken into two parts, uncontested and contested races.
The event hosted candidates for Oxford City Council, the school board, trustee and fiscal officers for Oxford, Hanover, Milford and Reily Townships. Only Milford Township and the school board have contested races.  
The school board candidates are incumbent Patrick Meade as well as newcomers Nicole Bays, David Bothast, Mendy Napier and Krista Stenger. The candidates were each asked four questions and given a fixed time to respond.
The first question was about House Bill 322, referring to the teaching of Critical Race Theory (CRT) in classrooms. The majority of the candidates agreed that CRT is more suitable to college level education than K-12. and noted that, in any case, it is not part of the district's curriculum. Bothast referred to CRT as a "trigger topic," that serves as a distractor from the financial issues the state should be focusing on.
Meade took somewhat of a different stance on this topic. He said he believes that state legislature is wasting time on the issue and that both whether and how to teach CRT and other sensitive issues should be dealt with on a local level. While he also believes it to be a "nonissue" like the other candidates, Meade does not think any part of history should be excluded from education.
"My training is as a history teacher, and sometimes in history, just as in our personal lives, we look back and see things we've done well, or things we aren't so proud of," Meade said. "If students get uncomfortable, discomfort isn't necessarily against education."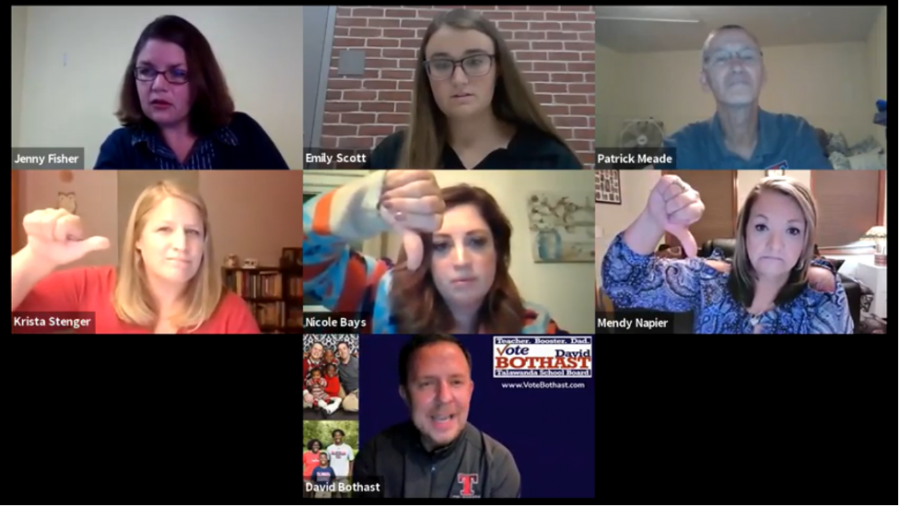 The second question focused on COVID-19 and how it has affected the city and the school district. The candidates spoke on the hard work of the faculty in running online classes while the schools were completely online, and some talked about the new integration of technology into the classroom. 
Napier and Bays offer unique perspectives as they both work in health care — Napier as a nurse and Bays as a respiratory therapist. Napier said that because she worked at the frontlines during the peak of the pandemic, she knows what COVID-19 was before and what it has turned into. She said she hopes to be a "voice for choice" when it comes to the mask and vaccine mandates.
As of now, Talawanda requires all students, staff and visitors to wear masks inside the school from grades K-12. After all candidates had answered the question, moderators asked them to give a thumbs up, thumbs down, or put their thumb sideways depending on whether they would vote to keep the mask mandate this coming December. Napier and Bays gave a thumbs down, with the rest going sideways due what they described as the uncertainty of the future.
The third question was about school finances, and there was a clear divide between participants: Meade and Bothast on one side, and Napier, Bays and Stenger on the other. 
Napier, Bays, and Stenger all said they don't think a levy is necessary, as it would increase property taxes for community members. They emphasized this as an issue because seniors on fixed incomes may not be able to afford an increase. Stenger said she thinks that budget cuts are the best approach to fixing the massive budget deficit that the district is operating under.
"I would look at how we get more money in without a levy, and how to make some cuts that don't affect people's livelihoods," said Stenger.
Bays spoke of the C average grade that the district has received in its last state report card. She said that in a district with some of the highest-paid teachers, a C should not be acceptable.
"If you're asking for a tax levy, then we should be getting an A rating from our schools," said Bays.
Meade, a retired teacher, and Bothast, a fifth grade teacher with the Hamilton School District, believe cuts are not the answer. Meade sees the district's tight finances as a state problem because 546 total schools are also working to deal with budget deficits. Bothast stressed the need for audit professionals who actually know the community and the district instead of seeing things as black and white. 
The other contested race featured in Wednesday's event is the race for Milford Township trustee, where incumbents Paul Gillespie and Brad Mills face challengers Shane Richardson and Pat Cain. 
Only Gillespie and Mills made an appearance at the virtual event, where they answered questions about accomplishments and challenges to the township.
The two echoed many of the same concerns such as needing broadband for all Milford residents, maintaining local roads and having stronger zoning enforcement.
Uncontested races include the seats for Oxford City Council, where newcomers Amber Franklin and Alex French, along with incumbents David Prytherch and Chantel Raghu, seek four available seats. In Hanover Township, incumbent trustees Jeffrey Buddo and Douglas Johnson are seeking re-election.  Oxford Township trustees Norma Pennock and Gary Salmon are seeking re-election, Reily Township trustees Dennis Conrad Jr. and Timothy Miller seek re-election and Oxford Township Fiscal Officer Susan Richardson Rooney seeks re-election. 
The uncontested candidates were given a chance to talk about goals, initiatives, and future challenges for their positions. Topics ranged from Raghu and Prytherch investing in a greener and more sustainable Oxford to Pennock stressing the importance of road maintenance.
The forum closed with a statement from Scott, reminding voters that Election Day is Tuesday, Nov. 2. To learn more about the candidates, community members can access the League of Women Voters Voter Guide.