Talawanda School District plans to build $1.5 million bus garage
Talawanda School District plans to build a $1.5 million bus garage and maintenance facility next to the district's high school, to be completed by the end of 2022. 
WDC Group, LLC (WDC) of Springfield, Ohio, was selected at the board's Aug. 31 meeting as the project's criteria architect. WDC is responsible for surveying the site and coming up with utility and geotechnology specifications that the final building design and construction must comply with. Once WDC's preliminary work is finished, the school district will advertise for construction bids for the 6,000 square foot facility, said District Treasurer Shaunna Tafelski.

The district's bus facility is currently located at the site of the former Talawanda High School on Chestnut Street, which was sold to Miami University in 2013. That site is scheduled to eventually become the site of a new train and bus transportation hub operated by Amtrak and the Butler County Regional Transit Authority. Talawanda has been leasing the space for the school buses since 2013, but that lease ends on April 30, 2022. 
"I would love to be able to have the building completed by (April, 2022), but that's not realistic with the supply and the demand of construction products right now," Tafelski said. 
As long as the current bus parking does not impede the breaking of the ground for the Chestnut transportation hub, the school buses can stay where they are. As of now, officials have no start date for the county transportation hub. 
"But we can't count on that," Tafelski said. If the Chestnut Street site is unavailable after next April, the school buses will be moved to one of the schools in the district, Tafelski said.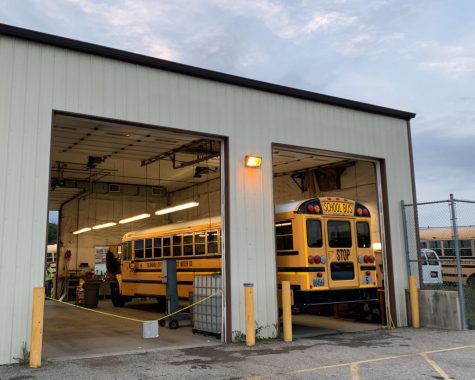 Every school day, 32 drivers on 32 bus routes covering all parts of Oxford, Milford, Hanover and Reily Townships pick up a little more than 2,000 children living more than a mile away from their schools, Tafelski said. 
Last year, during the COVID-19 pandemic, the number of children riding the buses in the district dropped to about 1,300. However, the number of riders has risen to pre-pandemic levels this year, Tafelski said. 
Petermann bus company, which provides bus service under a contract with Talawanda, drove 633,000 miles in the district during the 2020/2021 school year. During the same year, the district spent $140,000 on fuel for the vehicles, according to Tafelski. 
Among the advantages of a new bus facility, mentioned at the Aug. 31 school board meeting, will be additional parking spaces near the high school that can be used during football games and other school events. School officials will meet with the criteria architect next week to determine a rough concept for the facility.