Oxford City Council expands ethnic intimidation ordinance
Oxford City Council voted Monday to amend the city's ethnic intimidation ordinance by expanding the list of protected classes covered by the law and crimes connected to such intimidation. 
Hate speech is defined as any speech that expresses hatred toward a particular group of individuals. While free speech is protected under the First Amendment, it can also become illegal. According to a report submitted to the council by Law Director Chris Conard, hate speech becomes illegal when inciting criminal activity or specific threats of violence against a person or group because of hatred, bigotry and prejudice.
"Ethnic intimidation laws are utilized across the country to deter this kind of behavior," he said.
Prior to the amendments, Oxford's ordinance did not deviate from the Ohio Revised Code, which solely lists race, color, religion and national origin as protected classes. With the recent amendments, the ordinance additionally covers ancestry, sex, sexual orientation, gender identity or expression, age, disability, familial status and military status. 
Crimes listed under the ordinance would be subject to enhanced punishment if the crime was committed to target a protected class of people. The Ohio Revised Code lists aggravated menacing, menacing, criminal damaging and criminal mischief. Oxford's expanded ordinance includes these crimes, but now also includes assault, negligent assault, sexual imposition, criminal trespass, theft, unauthorized use of a vehicle and property, disorderly conduct, disturbing a lawful meeting and carrying a concealed weapon. 
Conard modeled the amended ordinance after laws in other Ohio cities, such as Columbus, Ohio and outside of the state. 
In 2020, there were a total of 7,759 hate crimes reported nationally, which was a 6% increase from the previous year according to reports by the Federal Bureau of Investigation (FBI). That is the highest spike in hate crimes since 2008, the year of Former President Barack Obama election. Also in May 2020, George Floyd, a 46-year-old black man was murdered by a Minneapolis police officer and a subsequent wave of protests occurred.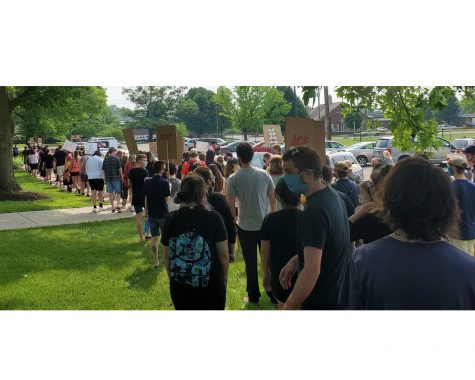 Anti-Asian sentiment in the U.S. also rose in 2020, due to the racial stigmas brought on by the COVID-19 virus. Because the virus was first discovered in Wuhan, China, people of Asian descent have faced an increase in discriminatory behavior, including the 2021 Atlanta spa shootings where eight people were killed. 
The Oxford amendments were inspired by Miami University students expressing their concern and recalling their experiences of harassment, both on and off campus. These amendments are working in conjunction with a resolution condemning the use of hate speech passed by Oxford City Council last year.
"This is in part an effort to make Oxford safer and more welcoming," Councilor Chantel Raghu said at Monday's meeting.