New Talawanda scholarship honors former coach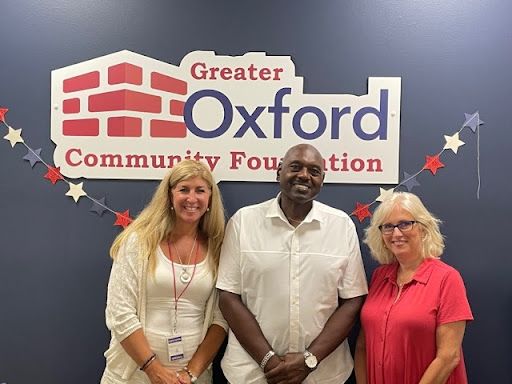 Melford T. Edwards played football at Miami University from 1972 to 1975. He then spent 40 years sharing his skills as a teacher and coach at Talawanda High School. His legacy now will live on, thanks to a scholarship in his name created by one of his former Miami teammates.
The scholarship, which will first be awarded to a senior in Talawanda's Class of 2022, was created by Edwards' friends, Steve and Tina Kramer. Kramer and Edwards were teammates while both were at Miami and have remained close friends since their college days. Kramer is now an attorney in Knoxville, Tennessee.
The Melford T. Edwards Excellence in Education Scholarship will be an annual scholarship awarded to a Talawanda High School graduate planning a career path in education, coaching or other education role with preference toward those focused on health/physical education or music. Additional consideration will be made for applicants who have had personal or financial hardship. Applicants should have a minimum 2.5 high school GPA, and those planning to go to Miami will be given priority consideration, Kramer said. The scholarship will be administered through the Greater Oxford Community Foundation.
"It is the hope that this scholarship will in some small way honor Mel's excitement for life…and do so while these recipients can continue to be inspired by "one of the good guys," Kramer said.
According to Kramer, "Mel is genuine, joyful and thoughtful. He has made a multi-generational contribution to the youth of Oxford over the past 40 years." 
Kramer said that when he and Edwards played at Miami, "I can vividly remember Melford often saying — as most of us did during our brutal "two-a-days"… that if we could ever survive this and get out of Oxford alive, we would never return. However, fortunately for Miami, Talawanda and the entire Oxford Community, Melford NEVER left and instead made a lifelong commitment and everlasting contribution to all three."
Betsy Hope, executive director of the Greater Oxford Community Foundation, explained that funding for the scholarship came from others who knew of Edwards' positive impact on his students. 
 "Steve and his wife, Tina, reached out to former teammates, friends and community members through the foundation and on his own to help raise the money to start the scholarship fund," she said. "We have had dozens and dozens of people donate to this fund already in just a few months."
Edwards graduated from Miami with a degree in education. After graduation, he got a job teaching physical education at Talawanda where he stayed and retired in 2013,  after 36 years. 
At Talawanda, Edwards coached football, serving as both a head coach and an assistant coach for many years. He was also named the first African American to be a high school head football coach in Butler County. He continues to live in the Oxford area.
The scholarship came as a surprise to Edwards. "The donors were wonderful about keeping it on the down-low to surprise Mel," Hope said.
 "I just hope my students know that I cared about them not just in the four walls inside the school, but outside of them," Edwards told the Observer. "Being a teacher is more than just what you do inside the classroom."