City installs new parking meters Uptown, increases prices
Uptown Oxford's parking meters now cost $1 an hour rather than 25 cents, as new meters that have card readers in addition to coin slots have been installed in are being upgraded to include card readers, at the 379 parking slots.
Installation of these new meters, approved for purchase by Oxford City Council in April, started getting installed in mid-July. Those wishing to park uptown can now pay for their parking using coins, cards, or the ParkMobile App.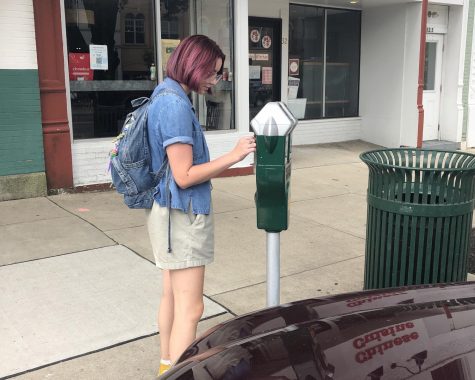 The meters will pay off their $300,000 cost within a year, according to Oxford Police Chief John Jones, who spoke at the meeting in April. 
The cost of parking increased to accommodate the new technology, Jones said. Funds from the meters will continue going toward the general fund, which is paying off the building of the Uptown Parking Garage, said City Manager Doug Elliott. 
Other changes going into effect with the new meters include longer operating hours. The new meters operate from 9 am to 8 pm, Monday through Saturday, to accommodate for the Uptown dinner rush, according to the ordinance presented at the April meeting. Previously, the meters ran from 9 a.m. to 6 p.m. with free parking after 6 p.m.
Jones said the card reading meters have been highly requested for many years in Oxford. 
Councilor David Prytherch agreed, and said most people don't carry change and would rather pay more for the convenience of using a credit card or mobile app. 
Many of Oxford's residents turned to "Oxford Talk," a Facebook page, to voice disapproval and concerns over the new meter rates. 
"I don't see how this helps businesses or the many people who work for food delivery companies. It'd be OK to set some spots to (free) 30-minute limits… In such challenging times, we should really make it simpler for local businesses and workers," wrote Philippe Giabbanelli.
Others were in favor of the change, like Victor Novell Jr. "I think it's a good idea, that way more people can go to restaurants uptown," he wrote. "I'd pay the increase."