Richard Farmer, Miami alum and business school namesake, dies at 86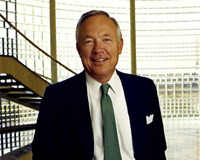 Richard "Dick" Farmer, the Miami alum who gave his name and substantial financial support to the Miami University Farmer School of Business, died Aug. 4, at age 86.
Farmer, of Cincinnati, had been in declining health, according to the university.
He graduated from Miami in 1956 with a degree in marketing. After a tour in the U.S. Marine Corps, Farmer joined his family's business in Cincinnati, Acme Wiper and Industrial Laundry Co. In 1968 he left the family business and founded what became Cintas, a $17-billion company that is the country's leading supplier of rental uniforms and other products. Cintas later bought out the Farmer family's laundry business.
In 1992, Farmer and his wife, Joyce (Miami '57) donated the cornerstone given to the school of business at Miami. Ten years later they provided a $30 million gift to the school through the Farmer Family Foundation, helping to underwrite the construction of the Farmer School of Business.
"Dick Farmer's guidance, insight, support, and generosity toward Miami University throughout the years has been immeasurable," Miami President Gregory Crawford said in a released statement. "His contributions to the Farmer School of Business and to Miami University have afforded generations of students as well as faculty and staff members a lifetime of personal and career success. We will dearly miss him."