OPD swears in IU graduate as newest officer
Brooke Hartwig, a graduate of Indiana University (IU) East and former caseworker with the Indiana Department of Child Services, is the newest member of the Oxford Police Department.
Hartwig was sworn in during city council's June 15 meeting.  The ceremony was the first of its kind to take place since the council resumed face-to-face meetings following the COVID-19 pandemic. 
Oxford Police Chief John Jones said he was glad to have the opportunity to commemorate a new police officer before the Oxford community once more.
"It's reinvigorating," Jones said. "It reminds you why you joined this profession, it was good to be back in person to celebrate."
Hartwig graduated from IU-East with a degree in criminal justice. She said she originally had gone into college thinking she wanted a career in early childhood education. But after reading "The White Umbrella: Walking with Survivors of Sex Trafficking," by Mary Frances Bowley, she switched her major and became interested in pursuing a career in police work.
"It's a book that's about human trafficking within the United States of underage girls, and that kind of switched my major pretty drastically," Hartwig said. "And then, I chose to go into law enforcement and to be a voice for people who don't have a voice themselves."
During her time as a university student, Hartwig participated in Indiana University East's cadet program, an initiative designed to give those interested in working in criminal justice an opportunity to shadow police officers. 
After completing the 15-week academy course, Hartwig became the first woman to finish the program at IU-East and was sworn in as an officer under the Indiana University East Police Department during her senior year.
After graduating, Hartwig worked under the Indiana Department of Child Services as a family case manager, until she moved to Eaton, Ohio, and applied for an opening position within the Oxford Police Department.
Police Chief Jones said the process to become a police officer is not an easy one.
"I think it's a fairly intense process, it takes forever," Jones said.
First is a written examination and a civil service test, and from there, the police department established a list of eligible applicants. From there, physical testing is done in the form of an agility test, a mile-and-a-half run and a pushup and situp test. Scores depend on age and gender guidelines that the State of Ohio establishes. 
Afterward, the top five candidates are given interviews, and the top two from there are given a second interview, which includes a background check and further testing, this time in the form of polygraph, psychological, and medical-physical testing.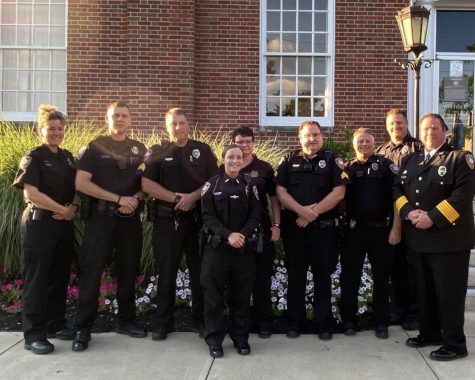 After all this, Hartwig was selected as the most qualified candidate.
"It was challenging, it's a very rigorous application process and it takes a long time," Hartwig said. "It was nerve-wracking of course, but throughout the entire process I was treated very kindly and the people in the department were very encouraging, so it helps solidify that this was the department I was really interested in pursuing."
If that sounded grueling, Hartwig's process did not stop there.
Because she was only registered as a police officer in Indiana. To become a police officer in Ohio, Hartwig needed 740 hours of mandated training and to undergo Ohio police officer basic training, a 40-hour week course, Monday through Friday, for 19 weeks.
"There's defensive tactics, there's range, there's driving, so everything that encompasses the skills you would need including de-escalation and autism awareness and things like that." Hartwig said.
After finishing her training in late May, Hartwig was finally able to be pinned with badge no. #57, at the council meeting and began working in the field in Oxford.
"I am very humbled and very grateful to be able to serve this community," Hartwig said last week. "Today's my first day of field training, so I'm excited to start and see what it's like to be an officer in Oxford."