Community connects over resurfacing of local artist's work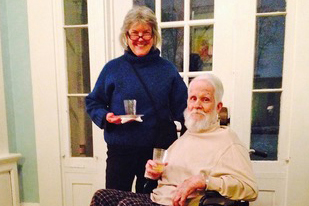 Many people in Oxford remember Crossan Curry as the Miami art professor whose gorgeous paintings decorate the walls of the Miami University Art Museum and Oxford Community Arts Center. When he died in 2019 at the age of 94, most of his artwork was dispersed to the family or the museums — but not all of it. 
In early June, Oxford community member Edward Huff posted in the Oxford Talk Facebook group that he had purchased the Curry property and discovered several pieces of Crossan's artwork in the house, along with a historic steeple from Fischer Hall. 
Huff asked if anyone in the community had any interest in the pieces, and several people jumped at the chance to keep some of Crossan's work. At the top of that list was Emma Hildenbrand, Crossan's granddaughter.

Huff immediately responded to Hildenbrand, and she was able to go over to the house to reclaim some of her late grandfather's work. 
Both Huff and Hildenbrand declined to comment.
"Edward has been very kind and was looking to connect with someone like me for the art. I was able to go over and take some items, but there is a lot, most of which is damaged. My grandparents died within four days of each other, so it's been a very fast process… I'm very grateful Edward is the one who purchased the property, his family is remarkable and the house is looking amazing," Hildenbrand wrote on the post.

Crossan's grandson and Hildenbrand's brother, Adam Curry, currently lives in Utah and could not join Hildenbrand to look at the pieces. But he and the rest of the family have collected their own artwork from Crossan over time.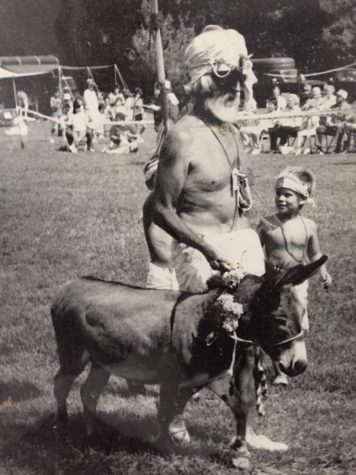 "It's just nice that the community loves and reveres [Crossan's art] too," Adam said.
Several of the people who commented on the post are Crossan's former students. They remember the impact his art and teachings had on their own pieces, and they wanted to keep a small sliver of the professor for themselves. 
One such student is Lee Baker DeVore, who took undergraduate classes from Crossan in the early 1970s before going back for her master's in 1977 with him overseeing her graduate studies. 
"He really impacted both my freedom and style of painting, and his unusual character was very much like my own, so it was a real encouragement to not be afraid to be myself," DeVore said. 
DeVore remembers Crossan's "booming voice" talking about "the creative process and learning how to see differently." 
Crossan encouraged his students to loosen up with their painting and be more relaxed, taking less rigid approaches to their work. His methodology included bringing chickens and roosters in for his students to paint or bringing classes out to his barn to paint the mules and donkeys. 
DeVore took a lot of inspiration from Crossan's style and instruction, so after graduating, she made a black and white painting of Crossan gathered around his goats and donkeys. She titled the piece, "Cross (the fence) an(d) Curry (the friend that warms the hand that feeds it)," and she said Crossan was "very pleased" with the painting. 
Huff never got back to DeVore about being able to take one of the damaged pieces found in the old Curry home, but DeVore is happy the family was able to reclaim some of his work.

"I wish I'd gotten to spend more time with him, but I will continue to hear his booming voice in my head," DeVore said. "I can't really look at my own work without being reminded of the impact that his example and instruction has had on me. It'll always be there."

Local artist and founder of Artistry Farm Debra Bowles also appreciates Crossan's teachings. Bowles first met the man through a historic conservation contact, but eventually she took a printmaking class with Crossan (and by happenstance, DeVore) during a summer in the late 1970s. 
"I've done art all my life, and in my bios, when they always ask for a couple of influential artists in your life, one of mine is always Crossan," Bowles said. "He reached hundreds and hundreds of art students, and his influence was incredible."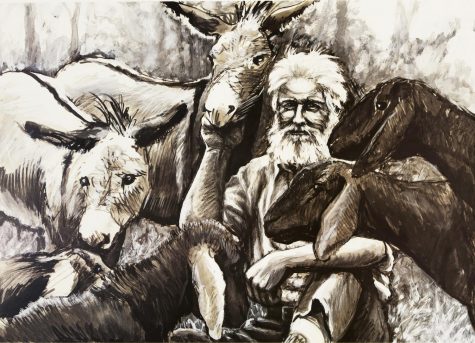 But Bowles and Crossan really bonded over their love of goats and other farm animals. Bowles was born and raised on a family farm dating back to 1835, and Crossan raised peacocks, turkeys, ducks, geese, chickens, goats, mules, donkeys, and hinnies (the offspring of a male horse and female donkey) on his farm in Oxford. When Bowles started Artistry Farm, she focused on raising dairy goats, which she frequently discussed with Crossan. 
"We were very close friends. When he died, I was attempting to switch my dairy goat breed to Nouvion, which is what Crossan had," Bowles said. "I actually said something at the service about how it was for Crossan that I was changing goat breeds, but that didn't work out for me, and now I really don't care for that breed."  
Crossan didn't like to say he ran a farm though, Adam Curry said. He preferred to call it his "menagerie." When he was a kid, Adam was always working on the farm with his brother Ryan, and when Crossan started up the Southwestern Ohio Mule and Donkey Show, the brothers would help their grandfather compete with his miniature goats. 

"I never got to see the teaching side, because when he would interact with me, it was 'Hey, we've got to go do this, we've got to go get bales of hay, we've got to go clean the stalls," Adam said. "What I look back and remember most is these times of talking with him, when we're cleaning out stalls and burying animals."

Adam also remembers going to the grocery store together, where Oxford residents would flock up to Crossan as soon as he entered the store. With his long white beard, halo of white hair, and six-foot frame, kids would point to him and ask their parents if he was Santa Claus. 
"You could not get in and out of the grocery store quickly," Adam said. "Everybody wanted to stop and visit with him, and talk with him, and he was always such a delight to stop and talk to."
Miami University Art Museum Director Robert Wicks remembers Crossan being one of the first professors he met when he started at the university 38 years ago. The two interacted several times on a personal and professional level over the years and was happy to display his art at the museum, Wicks said.
Wicks calls Crossan's artistic style "distinctive," and he keeps his favorite painting by the artist right in his office. It's a self-portrait of Crossan as a beekeeper, painted in swathes of yellow, green, white, brown, and blue. Wicks also loves the series of woodblock holiday cards Crossan printed for his close friends and family and the attention he paid to his students at Miami. 

"He was an inspirational teacher, always able and willing to give up himself for his students," Wicks said. "His name will live on forever."