Oxford honors retiring community members
During its Tuesday, June 15 Oxford City Council meeting, Oxford Mayor Mike Smith proclaimed "Rick Parker Day" on June 18 and "Pamela Collins Day" on Friday, July 2. 
Rick Parker, is the current president and CEO of the Miami University and Community Federal Credit Union (MUCCU), a position he has served in for 25 years. 
A graduate of both University of Cincinnati and Xavier University, Parker said his interest in financing goes well over 40 years with credit unions and other financial companies.
After working for various credit unions in Middletown, Ohio, Parker said he wanted to help grow a small credit union up from the bottom. He eventually found it in the MUCCU, where he was offered the position of president and CEO. 
"I really just wanted to be president for a company, and take a small company from the small stage, up to the big leagues," Parker said.
For the next 25 years of his career, Parker said he helped MUCCU grow from only being restricted to Miami University faculty members, to all members of the Oxford community.
"We brought the concept of a credit union to the community of Oxford," Parker said. "When I arrived, we were restricted on who could be a member and who could be in, and we turned the credit union into a community credit union and started serving the citizens of Oxford."
Parker said he was proud to be able to deliver quality service to those he felt were under-served in the community, instead of having to deal with what he felt were bigger banks in the area.
"I'm glad to be recognized for what the credit union has done for its citizens," Parker said. "I've always felt like we've been able to serve 'the little guys' of the citizens of Oxford with very fair financing."
Parker plans to retire from his position at MUCCU later this month.
Pamela Collins has worked at McCullough-Hyde Memorial Hospital for over 40 years and is the current chief patient services officer for the hospital. In her tenure, she has been responsible for a wide range of subjects within the medical field, from intensive and emergency care, to sleep medicine. She also serves on multiple nursing advisory boards for Miami University, Indiana East University and Ivy Tech.
Her proclamation from the mayor details Collins as a person who "… always had the hospital and the Oxford Community's best interest at the forefront of all actions and decisions…"
During the city council meeting, Collins shared the story of when she first moved to Oxford in 1978 and spoke with a fellow worker of McCullough-Hyde. Collins said she began to tell her co-worker about her future goals in her career, to which her co-worker said, "Why would you want to be anywhere other than Oxford, Ohio?"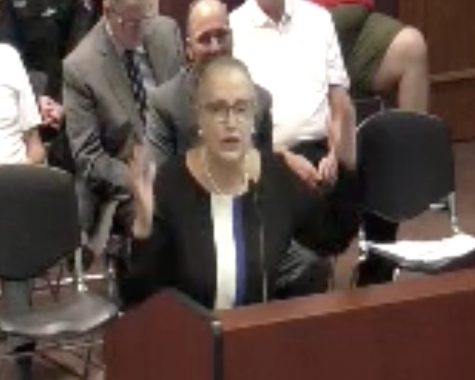 At the moment, Collins said she "wasn't so sure of that," however, after 43 years of serving the hospital, Collins said, "she totally, totally gets it."
"This community provides the fertile soil for great things to happen," Collins said. "For great relationships, for synergies and I'm so glad to have played a small part."
Before leaving the podium, Collins shared a word of advice to the council.
"Bloom where you are planted," Collins said. "And that's exactly what I did."
Collins plans to retire from McCullough-Hyde Memorial Hospital/TriHealth July 2.