Miami athlete skates toward her dream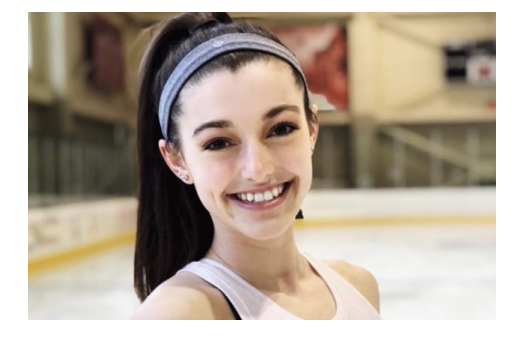 Before most people even have their first cup of coffee, Sofia Lapeire has already completed ice skating practice, lifted weights, and started her school day. The Miami University senior varsity synchronized skater is on the ice by 6 a.m. every day. 
Lapeire started skating when she was just 6 years old, inspired by an older cousin who skated. Lapeire's mother signed her up for skating lessons at their local ice rink, in Doylestown, Pennsylvania and she began what was to be her life's dream. 
"It was really kind of neat seeing someone of her age adapt to something so quickly and then just love it," said her mother, Lisa Lapeire. 
Sophia is now a 21-year-old rising senior at Miami, majoring in kinesiology. Lapeire has been skating with Miami University's Senior Varsity Synchronized Skating Team, competing at the highest level, for two years.
A devastating injury delayed the dream 
Lapeire said she set a goal of being on Team USA when she was in high school. The dream seemed unreachable at the time because she was on a lesser-respected team in high school than many of her competitors. Most of her current teammates were on Team USA feeder teams, so she knew she had her work cut out for her. 
Lapeire decided to attend Miami so she could skate and complete her degree all in one. The University's Senior Varsity Synchronized Skating Team is one of five ice skating teams that represent the United States in international competition. The team is made up of 20 females and of those 20, 16 compete. 
After months of training, the summer leading up to her freshman year and just six days before tryouts, Lapeire had a devastating injury. "I came down from a jump on my leg wrong and I started crying. Not because it hurt, but because I knew it was over," said Lapeire. 
Lapeire tore her meniscus and broke her leg. She had to make a difficult phone call to the Miami skating coach explaining she would be out for the season. After months of working toward her goal, she wasn't even able to try out. 
Miami stuck with her, giving her the opportunity to be the manager of the team as she recovered from her injury. She spent her days in physical therapy, healing and regaining her strength. Once Lapeire was able to get back on the ice, she joined the club skating team. Although she enjoyed her time on the club team she was still determined to make the Senior team and represent the USA. 
Making it back to the senior team
After being out for an entire season, Lapeire recalls one of the most satisfying moments of her career. In the spring of her freshman year, 2019, she tried out and made Miami's senior team. "It was so rewarding when I tried out that following spring and made the senior team," she said. "It was an incredible moment in my skating career," said Lapeire. 
As devastating as Lapeire's injury was, it made her into the athlete she is today. 
"It made her more determined and careful too," said fellow Miami skater Rachel Tortora. "She's more willing to take risks, but more calculated risks. She is always conscientious of herself and her health," 
That year, the team placed fourth at the nationals. The season consisted of three regular-season competitions, two international competitions and nationals. Lapeire recalled the first time she stepped on international ice in Sweden. 
"I remember during the practice I bent down and touched the ice 'cause I was like 'oh my gosh international ice, this is my first time skating on it.'"  
Finding a balanced life  
Because Lapeire was injured her freshman year, she was able to rush a sorority and joined Gamma Phi Beta. Unlike her teammates, Lapeire had time for a taste of the "typical college experience." 
Once Lapeire began skating again she had to learn how to balance her social life and skating. A majority of Lapiere's closest friends were not skaters. 
"What's awesome is that I've found a group of friends that are so supportive of me regardless if I can go out or not because I have a skating event the next day," said Lapeire. "That's something that is so special and that I'm so thankful for. With anything there is sacrifice and I knew that going in so it wasn't a surprise to me."
Lapeire and the rest of the team hit yet another roadblock when the 2020-2021 skating season was put on pause due to the COVID-19 pandemic. Her team practiced all throughout the fall of 2020. Lapeire and the rest of her teammates stayed at the university over Thanksgiving break, waiting for the news on the rest of their season. It was announced by US Figure Skating that there would be no competition.  But Miami's seniors continued to train as though they were in a normal season with weekly COVID-19 tests. 
"I think we made the most growth as a team this season because we were kind of able to reassess our goals and reevaluate where we were and then kind of pivot our mindset and really get down to the basics and be detail-oriented so that was really beneficial," said Lapeire. 
Lapeire said she is looking forward to competing again for one last season her senior year. After graduation in the spring of 2022, she hopes to stay involved in the skating world by coaching. She does not plan on competing after college because she understands how physically demanding skating is and she knows the older she gets the less her body will be able to handle. But for now, Lapeire will continue to work hard and enjoy living her dream.