Oxford plans solar energy development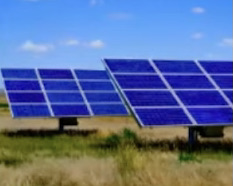 To decrease Oxford's reliance on fossil fuels, early plans for a 20-acre solar panel array on the old city landfill near Chestnut Fields is in the works.
According to David Treleaven, Oxford's environmental specialist, the city is hoping to allow for a "large" number of solar panels in the area, which would be financed, managed and built by a separate company, but would be leased by the city. 
According to a recent report from City Manager Doug Elliott, the solar panel project is aiming to support a 1 to 2-megawatt system. 
As of June 10, 38 companies from around the country have applied for the opportunity, with the selective winner being allowed a 20-year lease over the sanitary landfill area. The company in return, would be allowed to set the price of the energy that comes out of the panels, allowing for recuperation of funds spent building and maintaining the panels. 
"(Picking the successful respondent) will be a time-consuming process, a little bit trying," Treleaven said. "The issue I see with it is that we are asking the companies to provide proposals on how best to do this, I suspect we have a great chance to compare apples to oranges, not everyone will have the same plan."
In an early estimation, Treleaven said the initial cost of building the solar array would be $6 million, which would be funded entirely by the company the city selects. Treleaven said the estimated price varies depending on the size of the solar array.
Treleaven also said he did not have a specific timeframe on when he expects the project to be finished. Treleaven said following similar projects in Ohio, such as Brooklyn, Ohio, it could take around a year to 18 months. The deadline to submit proposals is 2 p.m. June 30.
Treleaven said the solar panels could go a long way for the city to achieve emission standard goals set forth with their admission to the Global Covenant of Mayors for Climate & Energy (GCoM) in 2018.
According to its website, GCoM is a member of 173 cities in the United States who "share long-term vision of a world where committed mayors and local governments – in alliance with partners- accelerate ambitious, measurable climate and energy initiatives that lead to an inclusive, just, low-emission and climate-resilient future, helping to meet and exceed the Paris Agreement objectives." 
"GCoM allows us to conduct greenhouse gas emissions inventory, and once you identify what the emissions are, you can make strides in reducing the emissions," Treleaven said. "I think it's beyond a good investment."
Other Ohio cities in GCoM include Cincinnati, Cleveland, Columbus and Cuyahoga County.
Oxford Councilor David Prytherch originally introduced the solar panel project before Oxford City Council during its April 20 meeting, and said the solar panels could help affirm Oxford's commitment to GCoM.
"(GCoM) itself is kind of a great story. Cities like Oxford have been thinking about sustainability and climate changes, even when it seems like the federal government hasn't been very helpful," Prytherch said. "Cities across the country have been joined in a commitment to help reach agreement for Paris Climate Accords and make a commitment to set climate action plans, among other things."
Prytherch said his idea was to use the solar panels as a way to help power future development in the Chestnut Fields area, most notably, for Butler County Regional Transit Authority (BCRTA) bus lines and the expected Oxford Amtrak line.
"BCRTA, over time, will likely shift towards using electric buses, and in doing so, you need an energy supply for electric buses," Prytherch said. "Solar panels could help supply that."
According to Prytherch, Oxford has a self-committed goal to become carbon neutral by 2045, implementing solar panels would help the efforts.
"Sustainability is a puzzle with a lot of pieces," Prytherch said. "A firm commitment to neutrality seems far off, but you gotta start putting the puzzle pieces together."