Two Miami track athletes to compete at NCAA championships
Miami University track stars Olivia Bechtel and Finley McLear will compete in the NCAA Division 1 Track Championships this week in Eugene, Oregon.
Bechtel, a senior, will run in the women's 400-meter dash, while McLear, a junior, is to compete in the men's 800-meter race.
The championships will start Wednesday, June 9 and end Saturday, June 12.
Of course, it's no small feat that the pair has even gotten to this point. After the COVID-19 pandemic forced cancelations in the spring and fall, things looked bleak for the winter and spring.
"There wasn't a lot of hope in the fall that we'd have a fairly normal outdoor season," Bechtel said.
Still, the season prevailed, as the Miami men's team took home first place in the Mid-American Conference (MAC) outdoor championship and the women's team won third place.
Going into the conference outdoor championship, McLear admitted he felt confident he would win the 800-meter dash. What was even better, in his eyes, was to take home the team prize.
"That was really the thing that got everyone so pumped up and excited, was just seeing that everyone's hard work collectively coming together achieved that team title," McLear said.
Seven RedHawks went on to compete at the NCAA East Preliminary Rounds, which were in Jacksonville, Florida. Although a few athletes had strong showings, McLear and Bechtel were the only two to qualify for the NCAA Championships.
Practice has been a bit lonelier for both of them now that everyone else is gone. Though McLear grew up running by himself, he's grown used to the team atmosphere at Miami.
"It's not the end of the world, I can deal with it, I don't hate it," McLear said. "But it's always a lot better having that support system and that social side to running."
Bechtel, a fifth-year senior who was granted an extra year of eligibility due to the COVID-19 pandemic, has accomplished a lot in her career in red and white. She has won the MAC outdoor championship in the 400-meter dash twice, including this season, and the indoor championship once.
She's also competed and won with multiple relay teams, including the 4×100, 4×400 and the Distance Medley Relays. In the 2019 outdoor season, Bechtel qualified for the NCAA East Preliminaries in the 400-meter dash and 4×400 relays, but could not quite make it to the NCAA Championships.
Now, after no outdoor season in 2020, the Bay Village, Ohio native finally got another chance to qualify for the NCAA Championships and made the most of it, qualifying with a time of 51.93 seconds.
"It's definitely a great way to end my time at Miami," Bechtel said.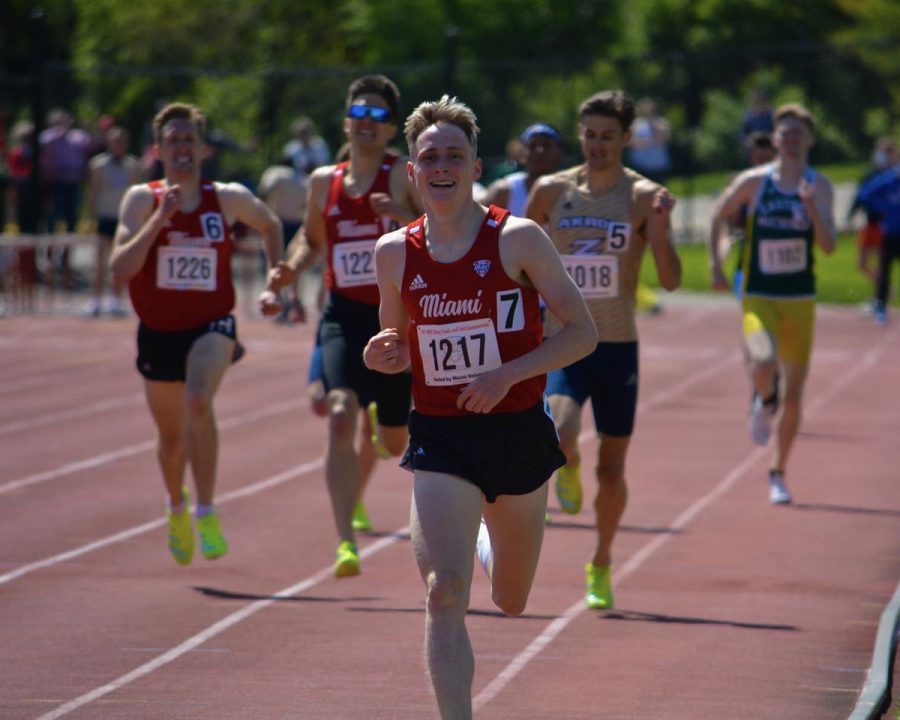 McLear is also a first-time qualifier for the NCAA Outdoor Championships. Unlike Bechtel, however, this season was the first time McLear's competed for Miami at all. Though he's listed as a junior, the Cullompton, England native redshirted as a freshman, then had his sophomore year wiped out due to COVID-19. 
He's quickly made up for lost time. McLear qualified for the NCAA Indoor Championships this season in the 800-meter dash, clocking in with a time of 1:45.91 (or one minute and 45 and 91-hundredths of a second, in layman's terms). He came dangerously close to winning but fell just short, losing to Oregon's Charlie Hunter by just a 10th of a second. 
After his experience in the indoor championship, McLear uses the photo finish as both a confidence booster and a motivator.
"When I get on that start line, I'm gonna make sure that I'm running 800 meters, not 790 meters," McLear said.
McLear's season is not over after the NCAA Championships. After competing in Eugene, he'll go back to England, where he'll compete in the British Athletics Championships. 
When McLear gets back to England, he will have to quarantine for five days without testing positive for COVID-19. Because he has an athlete's exemption, he will still be able to train during the quarantine period. 
Depending on McLear's performance at the British Athletics Championships, he has an outside shot of qualifying for the Summer Olympics, which will be held in Tokyo, Japan.
Still, McLear is not worried about that just yet. He's focused solely on the NCAA Championships right now but knows that bigger things may be in store this summer.
"I'm just gonna take each race one by one as it comes and see what happens," McLear said.