Pitcher may become Miami's highest ever MLB draft pick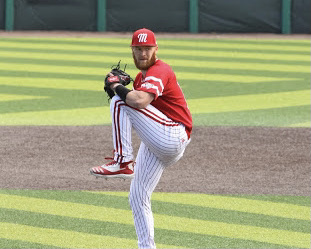 Miami University baseball pitcher Sam Bachman ended his junior season as a possible top 10 pick in Major League Baseball's draft for the 2022 season. 
Bachman began his career in Fishers, Indiana, as a member of his neighborhood church's T-ball team. He immediately fell in love with the game and upgraded from T-ball to coach-pitch play.
Seasons later, the coach returned to the bench and Bachman tried his hand at pitching the ball. He knew this was the position for him.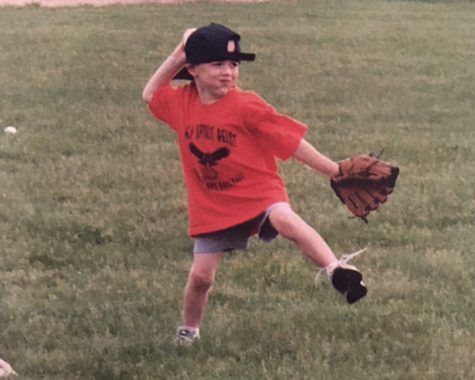 Growing up, Bachman made a name for himself in the baseball world. The summer after junior year of high school, he received two scholarship offers. He knew Miami was the right choice.
"I remember watching him throw Miami his first bullpen on campus and seeing him walk away. I just thought, 'Wow this kid is going to be really good,'" said Danny Hayden, Miami head baseball coach.
Various mock drafts now have him picked to go as high as 7-10th overall in the first round of Major League Baseball's draft July 11-13. A recent mock draft from MLB.com has him going 11th overall to the Washington Nationals.
Bachman is a junior microbiology major on a premedical track. 
"I chose Miami because I knew this was a great place academically," Bachman said. 
Studying by day and playing baseball at night, Bachman excels academically and as a leader on the baseball team.
Coach says he knows how to lead
Assistant Coach Matthew Passauer has worked with Bachman since his freshman year. 
"He is a great leader by example, simply by the way he goes about his business every day," Passauer said. "He works hard and diligently towards his process." 
Asked for one word to describe Bachman, teammate Kevin Napoleon noted his hard work. 
"It's something that everyone sees and admires," Napoleon said.
Bachman's teammate and best friend, Tyler Bosma, has been by his side since playing summer league in high school. Bosma is one of the 40 teammates who see the impact Bachman has made on Miami's baseball program.
"Even when he's not playing, he's on the top step of the dugout encouraging his teammates," Bosma said. "You always know it will be a good game when Sam is confident we're going to win. His confidence and energy trickle through all of us on the field." 
Both Bosma and Napoleon repeatedly called attention to Bachman's outgoing personality. 
"You see him on the field and he's super locked-in and focused, but once you get home he's all jokes," Bosma said.
Playing in the shadow of the pandemic
After COVID-19 canceled the baseball team's season last year, players were eager to take the field this year. They submit to COVID testing twice a month and travel in a larger bus to allow for social distancing. 
"The season has been a little bit of a rollercoaster ride so far, but we're excited to get back on the field and figure it out," Hayden said. 
The team ended the season with a 25-31 31-25 record.  
Despite the challenges imposed by restricted play, Bachman excelled on the team, placing as a first-round draft pick. When asked about his future beyond the draft, Bachman stayed humble.
"I just like to put my head down and concentrate on the now. Being where my feet are," said Bachman. "Let's plan for Miami and plan for what's on my chest right now." 
Hayden and Passauer applaud Bachman for his growth as a player and teammate. Both coaches emphasized his relationship with his pitching coach, Adam Vasil, who declined an interview.
"There's a trust between them," Hayden said. "When you have a relationship like that, the development of a player can happen really quick."  
Bachman expressed his gratitude to Miami's baseball program. He noted his personal growth with the guidance of his dedicated coaches. 
"The coaching staff does not believe in a cookie-cutter program," Bachman said. "I think that's what has helped me the most. A personalized program and people who are fully invested." 
"Sam has all of the mental and physical ability to play at the highest level. It will be up to him to prove it," Passauer said.
From his church's little league to major league baseball, Bachman anticipates becoming part of one of 30 Major League teams across the country in the MLB draft that begins July 11. Until then, he's focused on his biology studies and finishing strong for the RedHawks.