Talawanda baseball finishes second in southwest Ohio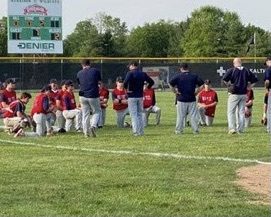 After one of its best seasons in the past seven years, the Talawanda Brave baseball season came to an end Wednesday, after a first-round tournament loss to Harrison.
Harrison won by a score of 2-1. Talawanda ended as runner-ups in the Southwest Ohio Athletic Conference, behind Harrison. 
According to head coach Matt Lykins, the team's 17-9 record was the best since 2013. 
Of the 17 players on the varsity roster, nine are seniors. Four of the seniors were starters, with a fifth being a crucial pitcher.  
Lykins described this season as being a joyful one. "There was a happiness by the players just to get out there and play with their teammates."
The Brave were fortunate to take the field this year and play a complete season, given the COVID-19 pandemic.
However, the team also had to face challenges this season. One of these being that no more than 12 players could be in the gym at any one time, cutting practice time as players rotated in and out of the building. The Brave also had to quarantine due to one person contracting the virus over winter break.
As the season went on and vaccines became available, players were able to get some form of the COVID-19 shot to prevent being quarantined again. 
"The opportunity to just get to play this year as opposed to last was great," Lykins said. He said he hopes things will get back to normal during the next off-season so players will be able to get in the necessary workouts.
He described next season's biggest goal as "getting stronger and keeping the momentum going."