Oxford amends mass outdoor gathering ban just before graduation
Oxford took a step toward pre-pandemic normalcy this week, when City Council modified its mass-gathering ordinance regarding outdoor events. 
Mass gatherings of 10 or more unrelated people outdoors are now allowed. The city's ordinance continues to prohibit indoor gatherings of 10 or more people who do not reside together. Capacity limits and social distancing rules on retail businesses continue to apply.
The 6-1 vote by the City Council May 4, comes less than two weeks before the scheduled Miami University commencement, when an influx of visitors is expected in town. The university scheduled commencement exercises in eight separate sessions in Yager Stadium over the weekend. Family groups will be required to sit socially distant from other families.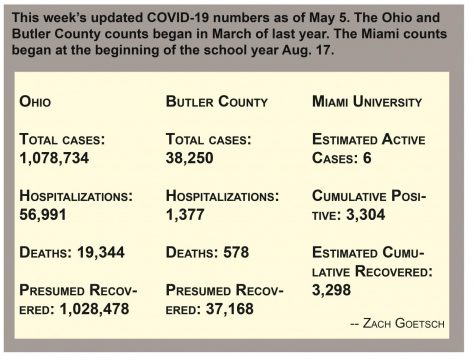 The new ordinance said the ease of restrictions is prompted by increased levels of vaccinations and decreased numbers of COVID-19 cases in the community. The ordinance notes easing the restrictions on outdoor gatherings follows the recommendations of state and federal health officials.
Councilor Jason Bracken, the only member to oppose easing the restrictions, said he thought the city should wait until after the Miami graduation, when there would be far fewer people in town, to ease the restrictions.
"Our relative population density will be quadrupled during this (graduation) weekend," Bracken said during the meeting. He noted that many family groups will be gathering outside at homes, fraternity houses and other venues to celebrate graduation. It will be virtually impossible to prevent some of these parties from migrating indoors, where the risk of infection becomes much greater. "The nodes of infection are still relatively high while the students are in town," he said.
Other council members urged parents and friends coming into town for the graduation to hold their gatherings in outdoor venues such as Hueston Woods State Park or any of the city and county parks in the area. 
At the request of City Manager Doug Elliott, City Council voted unanimously to table a second ordinance that would have lifted the city's mask mandate requiring people to wear face masks in all public places in the city. Elliott recommended that the mask requirements remain in place until at least after the Miami student population leaves town for the summer. The tabled ordinance can be brought up again at a later date.