DJ Renee is an Oxford legend to Miami students
Renee Huffman, known in the community as DJ Renee, has been like an Oxford mom to Miami University students for decades.
Being slightly unorganized is nothing uncommon for college students. For many, it is their first time living on their own, and they come to the quick realization that their parents are not here to clean, chauffeur or confide in. That is where Huffman comes in. 
Sophomore Armeen Kazeemi remembers getting a call from his parents asking him if he had a ride to the airport the following morning, where he was supposed to catch a flight home. 
"I completely forgot about finding a ride because I usually relied on my parents for that," Kazeemi said. "Thankfully, I made a few calls and was eventually connected to DJ, who wanted nothing more than to help me out. She made room in her schedule and was willing to do this for me. It saved my Thanksgiving break."
Huffman charges $25 for a ride to the airport. She will pick you up from your flight or take you there, no matter the time of day.
Stories like these are all around Miami. Huffman moved into the Oxford area 20 years ago and eventually seeded herself into the community. She started working as a DJ for the Theta Chi Fraternity 16 years ago, earning the nickname she now goes by. 
She also started cleaning houses for many of the students living off campus, including some of the fraternity houses. Word of her services spread from one satisfied customer to the next.
Currently, DJ is the regular house cleaner for Phi Gamma Delta. Their House Manager, Matt Apgar, said she eases their minds when coming to the house.  
"DJ is a savior to us," Apgar said. "She is always happy to clean whatever mess is inside the house, and she is a great personality to have around."
As her cleaning service expanded, she began to clean many off-campus houses for girls. It was here that she made some close connections with students.
"The girls would follow me around while I was cleaning, and we would just talk. I got to know them so well because I would spend hours a day, multiple times a month, just cleaning and talking about life," Huffman said.
She even made such an impact in one girl's life that she wrote about DJ in that year's commencement book. 
"I met DJ when I moved into an off-campus apartment," said Bridget Fox, a Miami sophomore. "We got to know each other when she cleaned my place, and she is the sweetest lady ever. I can talk to her about anything, and she gives the best advice."
Huffman charges different rates depending on the size of the house. She determines based on the number of rooms and bathrooms to clean. For the larger homes, like fraternity houses, she can charge anywhere up to a few thousand dollars, for a thorough cleaning that includes everything from kitchens and bathrooms to scrubbing down the walls.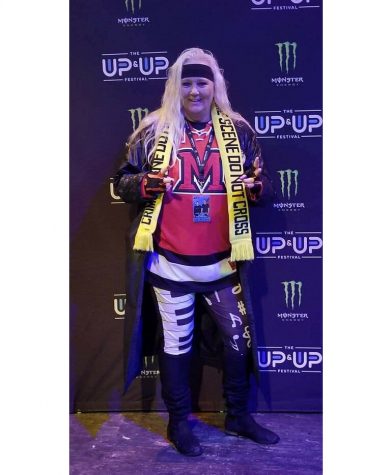 Huffman still works as a DJ at various events, on top of operating her cleaning and driving businesses. She said she has been in the entertainment business since she was 15 years old. She started a rock band with her friends and was the lead vocalist. After making her way to Oxford and working with Theta Chi, DJ began working parties all around town. 
Miami sophomore Abby Gilbert went to and enjoyed a party where DJ was working.
"I went to a party that DJ was DJing. She was so much fun, and she really knew how to engage a crowd," Gilbert said.
To this day, DJ still lives on as a performer. In every aspect of her life, she gives it the best effort.
"You have to go out in the world, and you have to set it on fire," Huffman said.
Students current and past refer to her as the "Legend of Oxford." She has made such close connections with some students that she still keeps contact with them. She gives them advice and her strong words of her motto: "be safe, be kind and love one another."
She ends every show that she DJs with these words and tells students this when they need encouragement or cheering up.