Ohio lessens some summer COVID-19 restrictions
Some restrictions due to COVID-19 may be modified as the summer approaches, with Ohio amusement parks lessening mask requirements and reducing quarantines.
According to Ohio Gov. Mike DeWine, Ohioans who are fully vaccinated will no longer need to be quarantined if they have come in contact with someone testing positive for coronavirus. Fully vaccinated means two weeks have passed after receiving second doses of Pfizer or Moderna vaccines or after receiving the single-shot Johnson & Johnson vaccine. This revised health precaution went into effect Tuesday, April 27.
The two largest amusement parks in Ohio, Cedar Point in Sandusky and Kings Island in Warren County, have announced a no-mask-when-outdoors standard for this summer. However, masks must still be worn indoors by all guests over 10 years of age, unless actively eating or drinking. People may also be asked to wear masks outdoors at the parks when socially distancing is not possible, according to the parks.
In other news from the governor, the restrictions on vaccinations for Ohioans under 16 years old may soon be lifted. In his press conference April 27, DeWine said that in the near future vaccines could be coming to people ages 12 and over. While he did not give a definitive date, he indicated this was a promising goal to be reached in the near future. 
Miami University has continued to give out their appointment-driven Pfizer vaccines this week. But, back at the beginning of April when the university announced its plan of vaccinating, it had mentioned it would be receiving the Johnson & Johnson vaccine due to its single-dose effectiveness. However, that vaccine was temporarily halted across the country while reports of very rare potential side effects were studied. The federal government has now lifted that pause and pronounced the Johnson & Johnson vaccine safe to use.  
Carole Johnson, Miami's associate director of university news and communications, said the university received the Johnson & Johnson shots but held them in storage when they were halted. As of Thursday, the university had no plans to start distributing that vaccine, she said.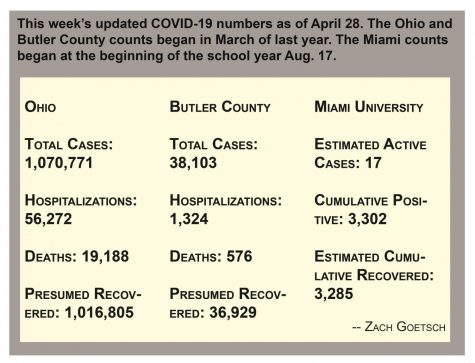 The university has also announced a new policy aimed at governing the privacy of its community members on vaccination status. In a recent email from the administration, employees were told they may not ask each other, subordinates, or students about their vaccination status. Nor will the university require employees or students to acquire COVID-19 vaccinations to return to campus in the fall, according to the email. Also, students who have been fully vaccinated will be exempt from random on-campus testing in the fall, the email said. 
Miami is offering at-home testing kits for any university community member wanting to be tested before the end of the spring semester prior to returning home for the summer. The kits will be available at various campus locations starting May 6 and lasting until May 17. Random on-campus testing invitations will continue until May 7.