DeWine advises Ohioans to continue vaccinations
The public health offensive against the COVID-19 virus hit a snag Monday morning, when the CDC recommended a pause on the administration of the Johnson & Johnson vaccine to investigate a potential, and very rare, side effect of blood clotting.
At this point, 6.8 million Johnson & Johnson vaccinations have been administered in the U.S.. Of those, six females between the ages of 18 and 48 have experienced blood clotting, with one case being fatal. Although there is no known causal relationship between the Johnson & Johnson vaccine and the clots at this time, the CDC said it is being very transparent with its effort to recognize and manage any adverse side effects that may be caused by the vaccine.
The pausing of this vaccination, however, does not mean Ohioans should stop making appointments for the two other vaccines – Moderna and Pfizer – that are approved for use in the United States. Various locations around Oxford have appointments available and if anyone is looking for assistance scheduling an appointment, they can call the Ohio Department of Health call center at (833) 427-5364.
According to Miami University's Communications Director Carole Johnson, Miami received 3,500 doses of the Pfizer vaccine that are being distributed to students, and 500 doses of Johnson & Johnson, that the university is now holding until further guidance is received from Gov. Mike DeWine and the CDC.
"We are holding clinics for our students to receive the Pfizer vaccine this Thursday and Friday, April 15 and 16 as planned," Johnson said. Pfizer was also distributed last week.
As of Monday, 264,311 doses of Johnson & Johnson had been administered in Ohio, according to the Ohio Department of Health COVID-19 Dashboard. Those who have already been vaccinated should not be concerned about blood clotting if they have received their vaccine three weeks ago or prior. Those who have received it within the past three weeks should look out for the following potential symptoms, according to Dr. Mysheika Roberts, of Ohio State University, who spoke at DeWine's Tuesday press briefing.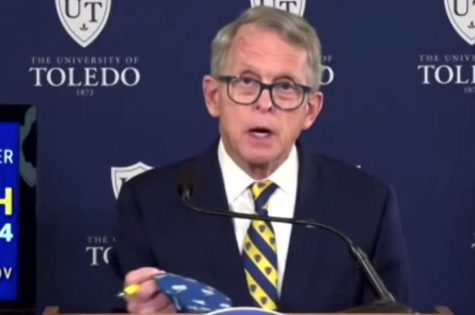 "Individuals should look for extreme headaches, changes in vision, shortness of breath, swelling or pain in lower extremities or consistent nausea/vomiting," Roberts said. 
According to Roberts, there is no doubt in the effectiveness of the vaccine despite this potential, very rare, adverse effect, and those who have received the Johnson & Johnson vaccine do not need to get another vaccination.
Overall cases in the state have risen in the last week, with a current statewide average of 200 cases per 100,000 individuals, the governor said. DeWine said once that number gets down to 50 per 100,000 population, mask and safety ordinances will be lifted. Due to the spreading of a new variant of the virus, Ohio is moving in the opposite direction from that goal, but with continued efforts to get people vaccinated, DeWine said he holds hope that the state will get there eventually. 
"We have hope. The hope is the vaccine," DeWine said in a Thursday press conference. "We know how to get out of this and we have the tool to do it; now we just need to use the tool.
Along with the offensive efforts of getting vaccinated, DeWine reminds Ohioans to keep up their defensive guard as well by continuing to wear their masks and social distance. He said 94% of Ohioans are mask-compliant in retail establishments. 
"[The virus] is very much alive and moving so we need to stay with the basics and really put an emphasis on the offensive side of getting the shots," DeWine said. 
Although the CDC expects the pause of the single-dose vaccine (J&J) to be short, at this time there are no definitive answers, as the rare, adverse effects are being closely examined to ensure the safety of that vaccine. The blood-clotting issue is not a problem with the Pfizer and Moderna vaccines, according to the CDC.