Miami senior experiences COVID-19 vaccination process at Miami
"Are you ready? There will be a slight pinch," said the nurse preparing to slide the needle into my left arm. I have always been good about getting shots and none have made me worry in the past. But this shot was different. 
I was walking out the door of my apartment Wednesday April 7, about to head to Butler County Fairgrounds to get my COVID-19 vaccine when I received an email invitation to get my shot from Miami University. So, I canceled my trip to the fairgrounds and arranged to get my shots from the school instead. 
On April 10, the day of my first shot, the clouds were gray and there was a light drizzle of rain as I walked to the Shriver Center on campus. I took the rain as a sign of refreshment, starting my vaccine process felt like a baptism in starting life over again after all that the pandemic has changed. I was also wondering how many other students were going to be getting their first shots with me and how long the whole process would take. 
Once I entered Shriver, there were signs directing students toward the John E. Dolibois Room on the second floor. From around the corner, I could hear a man directing people in a loud and cheerful voice. 
"Here for your COVID shot? Right this way. We'll take care of you as soon as a scheduler is open," he said to me. 
I thanked him as he sent me to the back of the room to schedule with a man sitting with a laptop. All around me other students were showing their IDs and answering questions as their schedulers were filling out their vaccination cards.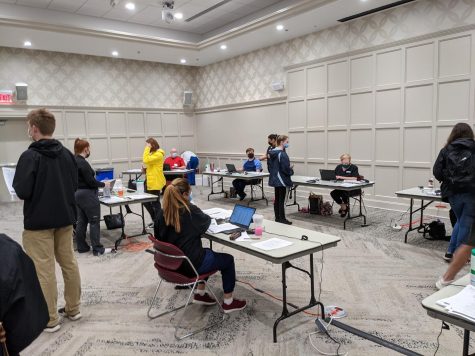 Miami received 3,500 doses of the Pfizer vaccine and announced it would give shots to any enrolled students at Shriver on April 10, 11, 15 and 16. The second shots of the two-shot regimen will be administered on May 1, 2, 6 and 8. There is no cost for the shots. 
The university is not requiring students to get the vaccinations, but Ohio Gov. Mike DeWine has urged all students to try to get vaccinated before they leave school for the summer and travel home, to cut down on the spread of the virus. People can schedule shots at various vaccination centers online through the state's Get The Shot website.  
After I got my information packet and my filled-out vaccination card that listed the date of my second shot appointment, I stood in line again and waited my turn to see an open nurse. Standing there, I noticed that there were about 40 or so seats spaced out across the room. Some students were sitting in the chairs and I was confused why they were there. "Were they waiting to schedule like me, I didn't have to wait there? Were they waiting for other people to get their shots?" 
Finally, I got to the front of the line where I could see how rooms were set up for each of the nurses administering the shots. The school was using whiteboards and dividers to create small offices for each station to allow some privacy. A nurse then came up to me and directed me to one of the fabricated rooms.
My parents told me that after they got the vaccine, their arms were pretty sore, so I was a little on edge thinking that this shot might hurt more than most. I took off my raincoat and answered the health questions the nurse was asking me as she prepared the vaccine.
The shot was painless, but the opening where the needle entered my arm did bleed a little. The nurse sterilized my wound and stuck a bandage over it. She finished filling in the information about my first shot on my vaccine card and gave me a sticker that read "I got my COVID-19 vaccine."
"I'm going to ask you to wait for 15 minutes out on the chairs around the corner . . . and then after that, you are free to go," she said, reading the time on her watch and writing it down on my information pamphlet.
Now I knew why the other students were sitting in the chairs that were spread around the room. To make sure that no one has a bad allergic reaction to the vaccine, recipients have to be monitored for at least 15 minutes after receiving their shot.
I sat down in a chair in the front row and as I waited, I wondered if I would feel anything after just getting my shot. I didn't feel anything out of the ordinary but I did feel a sense of accomplishment in doing my part to protect myself and others from the virus.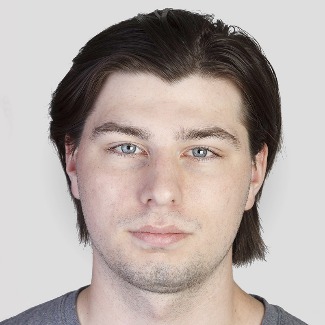 I'll be honest, I wasn't looking or scrambling everywhere to get my shot when I was legally allowed to. I knew that it was important for me to go through the process but at the time I thought other things were more important. After actually getting my first dose, however, I couldn't have been more wrong. I am really glad that I started my process, knowing that I have at least started doing my part in protecting others because getting vaccinated isn't only about protecting myself. I thank all the other students who were getting their shots as well, and I will see you in three weeks for our second doses. 
Zach Goetsch is a senior at Miami majoring in journalism and creative writing. He has been covering the COVID-19 pandemic for the Observer this semester.