Farm program invites families to join produce share
Miami University's Institute for Food invites students, faculty and other members of the Oxford Community to join in its fifth season of the Community Supported Agriculture Program (CSA), and to sign-up for shares of the produce. 
The CSA program is a direct farm-to-consumer market model in which members pay for a share of the farm's harvest in advance, according to the Institute for Food blog. Each week during the season, members receive a share of what the farm grows. Proceeds from the program help support daily farm operations and initiatives.
The Institute for Food is a Provost Interdisciplinary Innovation Project, housed with the Institute for the Environment and Sustainability at the university, according to the Institute for Food website. It was created to engage the Miami community around issues of food, health and sustainable agriculture.
The 12-acre farm, located off Somerville Road near Morning Sun Road, promotes engaged student learning, faculty and student research, health and wellness, sustainability initiatives and a local food system. 
One goal for the farm was to grow and harvest produce for the university's food services, said Charles Griffin, director of farm production and operations. The first year up and running, the farm grew produce for a banquet to celebrate the outgoing and incoming university presidents.
Last year, a dietician that helps run Dividends Market in the Farmer School of Business, asked the farm to grow greens for the eatery's salad bar. The farm started off and provided about 10 pounds of lettuce to the market, then got up to 25 pounds and provided about 50 pounds right before COVID-19 hit, Griffin said.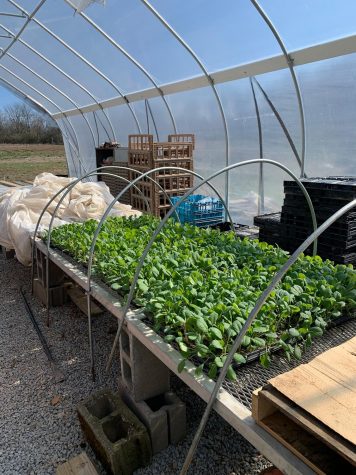 "When Miami shut down, we had all this cut lettuce and produce throughout the growing season that we had nowhere to market," Griffin said. 
So last year, the farm ended up giving about 5,000 pounds of extra food to Gleaners, a food bank organization based in Detroit with distribution centers in several states, including Indiana and Ohio. The rest of the extra produce was donated to Talawanda Oxford Pantry and Social Services (TOPSS). 
"In 2020, we received 2,008 pounds of food from the farm," said Ann Fuehrer, executive director of TOPSS. "It's a really wonderful source of fresh local produce."
While the pandemic proved to be challenging for the farm at first, requiring cutbacks of farm staff and leftover produce, the CSA program survived. Sign-up numbers actually rose a bit, Griffin said. 
"It makes sense when you think about it," Griffin said. "More people are staying home and doing their own cooking."
Griffin receives help preparing for the program from student volunteers. The Dietetic Internship Program offered through the College of Education, Health and Society for graduate students requires a community emphasis, said Nancy Parkinson, associate clinical lecturer and registered dietitian.
To prepare for the CSA program, about 10 volunteers help Griffin harvest the produce Monday, Tuesday and Wednesday. They'll wash it and then store it in a refrigerated truck. By Thursday, which is distribution day, Griffin and the volunteers will do last minute harvesting and washing, then put the CSA shares together in bags. 
"We'd get worn out if it was just one or two of us," Griffin said. "It takes a couple of hours even with eight to 10 people."
By 3 p.m., they'll head to Cooke Field to begin distributing the shares to members. Before the pandemic, members could bring their own bags and take the amount of produce their paid share allowed for, Griffin said.
Now, members have the option to still "shop" for their shares while wearing masks and staying six feet apart, or they can receive their shares by curbside pickup.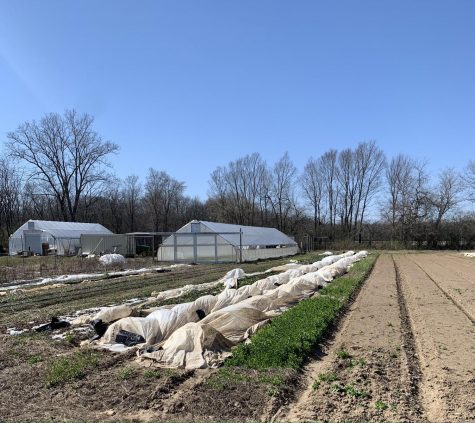 The produce offered during the program depends on the season, Griffin said. The spring and summer seasons see a lot of the same crops, such as lettuce, carrots, beets and asparagus. If all goes well, members can expect strawberries in their share later this year. This is the first season Griffin has tried to grow them. 
"The difficulty can be having enough for each week," Griffin said. "What I try to do is balance, when I can, fruits, leaves and roots."
A 15-week single share, which feeds one adult, includes six items and costs $200 for the summer or fall season, or $350 for the two seasons combined.
A 15-week double share, which feeds two adults, includes 12 items and costs $320 for the summer or fall season. The two seasons combined costs $620. 
The summer CSA season begins May 20 and lasts until Aug. 26. To sign up for the program, click here.