'Smart' meters to be installed uptown this summer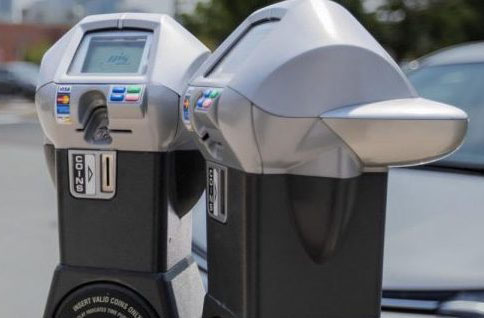 Oxford will install 367 single-space credit card meters and 12 multi-space "kiosk" meters  this summer in high traffic blocks in uptown Oxford, per Police Chief John Jones' recommendation. It is estimated the new meters will charge $1 per hour payable by credit card or the ParkMobile app. 
Overflow parking areas, like those near McCullough-Hyde Memorial Hospital, will continue to use coin meters at 25 cents per hour. 
Oxford has been testing the new "smart" credit card and app reading meters in limited areas since December 2019. City Council approved Jones' recommendations at its Tuesday meeting. 
Economic considerations and maintaining continuity with Miami University's hardware were among the factors that informed the city's decision to phase in smart parking technology. 
Jones' presentation explains that the project would generate an estimated $1.3 million profit for the city in five years. The profit will go back into Oxford's capital improvement fund. 
"While it's not about revenue generation, we have to cover the cost of the technology," Jones said. 
Michael Wilson, director of regional sales for IPS Group, the vendor for the new meters, vouched for the new technology.
"I've presented this to many cities. I've had them come back on numerous occasions saying how accurate it was or how underestimated that revenue and that profit was… I think everyone should have great confidence that this is going to be a good investment, and it's going to ultimately control occupancy in Oxford," Wilson said. 
Vice Mayor William Snavely expressed concern over the parking technology, especially the financial strain it may place on Oxford citizens. 
"Michael was so positive about the $1.3 million dollar profit. We're making that on the heads of the people in town, not all of whom are wealthy and think nothing of throwing money into a meter," Snavely said. 
Snavely suggested that the parking rate spike may discourage people from going uptown. He even offered an opposite approach. 
"If anything, we should be reducing the cost of keeping it low in the parking garage so people will be incentivized to use it," Snavely said. 
Snavley also said he's seen visitors seemingly avoid the more costly parking options.
"People were reacting to the cost of High Street [parking] and moving into the off-streets. Now we're going to remove all of those options from them so there's no place they can go without paying a dollar an hour."
Councilor Chantel Raghu questioned the environmental ramifications of the project. 
"As an environmentalist who cares about sustainability, it's hard for me to want to promote policy that makes it easier for people to drive," Raghu said. 
Other council members supported the project. Councilor David Prytherch praised the project team's extensive research. He suggested that smart technology offers a relevant solution to outdated coin meters. 
"Seventy percent of our city population hasn't had a coin in its pocket over the last 40 years. They don't even know what a coin looks like, but they know what a credit card or an app looks like," Prytherch said. 
Prytherch addressed Snavely's concerns about the smart meter rates, which are four times that of the 25 cents per hour coin meters. 
"Once you have a smart meter, you can set your pricing in a smart way. You could charge less in other places in off periods," said Prytherch. 
Although the project resolution passed supporting the new meters, the discussion of parking meter rates remains under review. The council will hold a separate ordinance for fees at a later date. 
The complete April 6 city council meeting can be seen here.