Police officer finds place to work on social issues in Oxford
The Oxford Police Department responded to another call at a yellow factory-built trailer in the Oxford Mobile Home Park.
A 60-year-old woman wanted her daughter out of her residence and asked the responding officer to help. 
"I don't have anything; I don't have anything!" said the 30-some-old daughter. Jerkily, she raised her hands and a meth-pipe she had stuck in her bra fell to the ground. 
When officers talked about the case with each other later, it sounded like a familiar scenario, said Officer Matthew Wagers.
Wagers is a 10-year veteran with the department. Part of his job as a community resource officer is to work on long-term issues, which often involves dealing with drug overdoses and substance abuse matters – sometimes with the aid of a social services worker.
"We can't arrest our way out of drug problems, we've got to come up with different solutions — how to help people," he said. 
Changing role of police after summer protests
The Oxford Police Department has not been spared from the nationwide pressure and criticism that has emerged in response to George Floyd's death in Minneapolis last year. It's the reason Wagers now works as a community resource officer, on top of spending four days a week at Talawanda Middle School as a school resource officer. 
Lt. Lara Fening, who is responsible for the community relations and media relations of the department, said she remembers taking a step back on social media platforms such as Facebook during the summer of 2020. 
While people worldwide demonstrated against police brutality and the lack of police accountability, officers in Oxford noticed a different behavior toward them.
"There's nothing we could have done right," Fening said.  

Wagers said the officers he knows are conscientious about developing a rapport with the citizens they serve.
"I'm not saying it's perfect," Wagers said. "It's not. But I think the vast majority of police officers are in this job for the right reasons and are trying to do the right things. Every profession can do better, and we are no different."
Coincidentally, a social worker from Middletown reached out to Fening last year.
"They felt like Oxford was underserved," she said. The department developed a working relationship with a coordinator of The HopeLine, a free service established to provide a safe place for those suffering with substance abuse. Police wanted to try out the concept of a community resource officer who would address such long-term issues. There was concern about the lack of accessibility to social workers or social service agencies in Oxford.
Wagers describes Oxford as a "bubble," somewhat isolated from bigger cities in Butler County such as Hamilton and Fairfield, where county social services offices are located.
"We're not completely forgotten about, but we are definitely not made a priority," Wagers said. "Maybe that's because of our smaller size, our distance away from the main hub."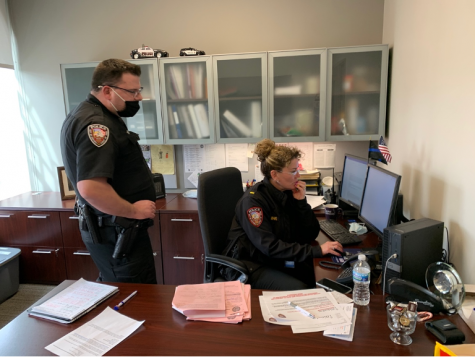 A family history in police work 
While his father was a police officer, 36-year-old Wagers was not always sure about his own career path. He attended Northern Kentucky University on a baseball scholarship and graduated with a degree in exercise science and a minor in health. 
Wagers had initially planned to become a special education teacher but did not want to stay an extra year in college, as his student teaching semester had interfered with the baseball season. 
Wagers went on ride-alongs with his father, Calvin Wagers, a former law enforcement officer in Hamilton. He realized that he too wanted to make a difference in the community like his father. 
Calvin Wagers said he did not really want his son to become a police officer at first because he knew that the job could be challenging and dangerous at times. "I knew it wasn't getting better, but getting worse," Calvin said. 
But when Oxford called to offer Matthew Wagers a position, Calvin took the call for his son.  
"When do you want him there, I'll get him in the car right now," he said. 
The Oxford Police Department initially looked for a candidate who already had been through the police academy, but ended up sending Wagers through the training program on the condition that he would work for them afterward. 
"He works a lot of overtime and is going a million miles in a million directions," said Fening. She described Wagers as a fast learner. "He wants 25 years of experience and knowledge after he's been here for five years," she said.
"They talk highly of him which makes me very proud," said Calvin Wagers, "but you still have that worry where hopefully he won't get into something where he's going to get hurt. That will be there forever."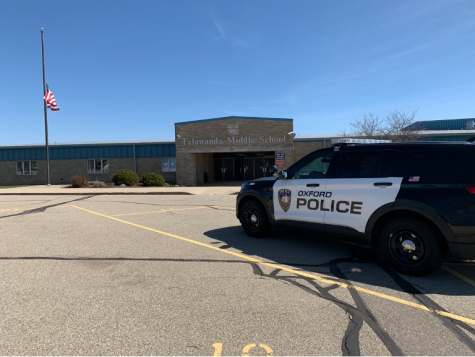 Working on the long-term problems
One day a week, Wagers drives around town and checks in on community members, often accompanied by Liz Dickinson, a coordinator for HopeLine. Together, they try to provide resources to break the cycle of substance abuse and work to connect addicts to drug rehabilitation treatment programs. 
"It can be tough sometimes, because sometimes people don't want help," Wagers said.  
If he were to work on such long-term issues full-time, Wagers said he would come across drugs like meth, heroin and fentanyl with xylazine every day. A particular problem is speedball, a combination of heroin and cocaine that produces a stronger high than heroin alone, which is seen more frequently, Wagers said.
Wagers said he highly values the partnership and collaboration with social service resources. He thinks the "Defund the Police" slogan that was frequently heard last summer during the George Floyd protests failed to look beyond the moment. Wagers said it is important to make sure that police are not simply removed without having any other solutions in place. 
"To say we're gonna get rid of this amount of money and throw it over here . . .  I think it could prove disastrous," he said.
Rather than defunding the police, Wagers believes in supplementing police. Any routine call could potentially turn violent and become dangerous for mental health and health care professionals, he said.
"I don't think one can replace the other," he said.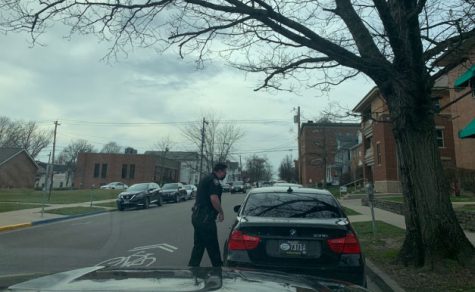 Leaving the negative at work
 When he is not at work, Wagers is the same person with different responsibilities. He has a son, Bowen, and a daughter, Skyla, and loves to spend time with his children and his wife, Analicia.
"I got a boss at home; her name is my wife," Wagers said. 
While Wagers is no longer interested in playing baseball himself, he enjoys coaching his 6-year-old son's T-ball team called "Mudcats" for the Miami Little League.
Wager attends Tri-County Assembly of God in Fairfield, spends time fishing in Brookville and Hueston Woods and takes his family out to try different and unique restaurants out of town. All these activities help balance out the often-stressful life of a police officer.
"I try not to bring home a lot of the negative with me because I want my children to have a safe and healthy upbringing," Wagers said. "I try to be present for my kids' activities, that's very important to me."  
Recently, in an attempt to expose Bowen to different experiences, Wagers showed his son how to use a log-splitter borrowed by Lt. Fening. In about one hour, the men had done what would usually take multiple days.
There are some success stories 
Wagers is not at the middle school Wednesdays and instead he patrols the city.
Driving through town, he often stops and talks to community members. He sees a young man walking on the sidewalk near CVS and recognizes him by his walk. 
"What's up Matt, how you're doing man? I heard you got your own place now," he asks.
"I sure do Sir," Matthew replies. 
Matthew is one among many of Wagers' success stories. People used to call about a guy sleeping behind the dumpster or asking for money, he recalled. After Wagers helped connect him with Oxford's Family Resource Center, Matthew was able to find a permanent home and a job. Matthew described the police's outreach as the push he needed. 
 "[The officers] told me 'you could do better out here, this is not the life for you,'" he said. "A fire in me just finally clicked when [they] said that."
The young man, who now works at a local restaurant, tried to get away from people around him, many of them drug users. The resource center put him in a hotel for three months, helped him find a job and paid for the first month of rent.  
He now lives in an apartment close to work. "I'm loving it, there's not any kind of drama," he said. "It's just a wonderful environment."