Miami students present latest art museum exhibition featuring women
A group of Miami students took turns explaining the works in the Miami University Art Museum's Confronting Greatness: A Celebration of Women Artists exhibition during a virtual presentation this past Wednesday, March 11. 
The students were members of an Art & Architecture capstone course that gave them an opportunity to curate the exhibition, which is part of the museum's spring lineup. Unlike other years, in which students were able to go into the museum to examine the physical artworks in person, almost everything on this project was done over Zoom. A YouTube video of the full presentation may be seen here. The exhibition remains on display through the end of the semester.
The exhibition displays a variety of art forms from different female artists, with most of the works coming from the 20th century. The various pieces go in depth with different ideas and subjects, such as women's suffrage, recognition of women artists and women being able to take pride in their gender and sexuality. 
The exhibition is broken up into three different subsets and themes. Women/Artist, which includes a number of self-portraits where artists explore the question of being held back as a woman and a female creator; The Aesthetics of Making, which explores woman being marginalized in media or discussing and showcasing the identity of being a woman; and Bodily Expectations, featuring nude art stereotypes and body autonomy of women. 
One of the pieces showcased was African/American (1998), a linoleum cut piece by Kara Walker, curated by Miami University senior Sydney Herrick. In this piece Walker uses a black silhouette to depict a woman's body to bring forth femininity, sexuality and gender to show the beauty of the black female form and how people view you being a black woman in society. 
"I was also able to dive deep into historical and contemporary issues of race and race representation in the art world and how those kinds of things intersected," Herrick said.
Another piece discussed was "book weight tt (2009-2010)," by Ann Hamilton, which was curated by Miami University Alumni Jillian Cofskey. In this print, the theme of contradiction is displayed. The obscuring of text conveys seeing/reading something without understanding it.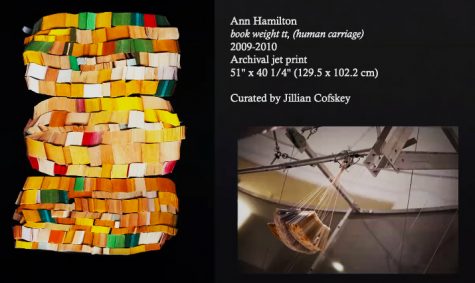 "It's not an explicitly feminist work, but its super important to recognize that with this she is kind of silently drawing on mediums of textile, writing, color theory, things that might be considered feminine mediums and converting them into a power play," Cofskey said.
The students expressed deep gratitude and appreciation for the opportunity to curate the exhibition, due to the fact that this capstone course might be the last class that some of these students will take.
"I am constantly about this idea of confronting greatness like what artists and artworks am I showing to my students that they see themselves in art," said senior Alex Morse, who is majoring in Art Education.