Oxford urges residents to shovel the sidewalk
Don't stop shoveling when you get to the end of your driveway — you have to clear the sidewalk too.
Although sidewalks are public right-of-way, residents and business owners are responsible for clearing them of snow, ice or any other hazard, according to the Ohio Revised Code 723.011.
After the snowfall Oxford received Feb. 8, City Manager Doug Elliott went on the city's website urging residents to shovel the snow from sidewalks to keep pedestrians safe.  
Many Oxford residents continued to spread Elliott's sentiment in the Oxford Talk Facebook group as this week's snowstorm hit. 
Some people reminded everyone of the importance of clear sidewalks, as they are essential to how residents get to school, work and shops. Others volunteered to shovel driveways and front walks – some for a price, some for free – for those who aren't capable of the physical work, according to Oxford Talk.
Miami junior Phoebe Harvey posted Monday afternoon in Oxford Talk, letting residents know she'd be happy to shovel driveways, front walks and sidewalks for those who couldn't and she'd do it for free while wearing a mask. 
"There are people in the Oxford community who need help, and either don't have anyone or don't know who to ask," Harvey said. "It also gives me an excuse not to go to the gym for that day."
Harvey had a few takers, all either older, disabled or sick.
While the city is taking care of the streets, it's the responsibility of business owners to make sure the walks are clear in front of their establishments, said Oxford Chamber of Commerce President Kelli Riggs. 
"Most businesses, depending on their size of their business, either hire someone or a company, or many do it themselves," Riggs said.
If business owners and residents fail to clear their establishment or residence sidewalk, they're guilty of a minor misdemeanor, according to Oxford Codified Ordinance 521.06.
Oxford residents also are being called on to keep the community's fire hydrants visible and accessible after snowstorms.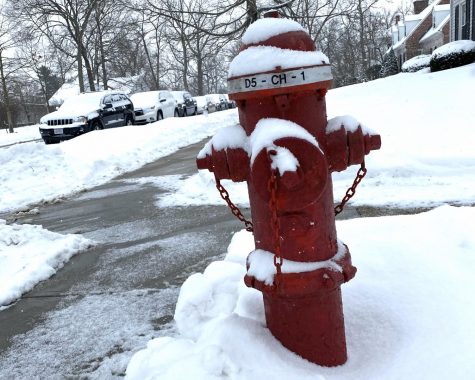 According to the National Fire Protection Association (NFPA), snow accumulation can quickly obstruct fire hydrants and block access from fire department vehicles. These hydrants provide a quick and ample water source, so in the event of an emergency, they are crucial in helping firefighters do their job.  
"Please be sure not to block or cover fire hydrants with snow," said a recent post by the Oxford Fire Department's Facebook page. "If you have one in front of your house and are able, please clear around it."
Ohio Fire Code states that unobstructed access to fire hydrants should be maintained at all times. At least three feet of space should be cleared out around the circumference of the hydrant.