A nutrition business offering shakes and teas to open in Oxford
Krazy Fit Nutrition, a new business offering nutritious shakes and teas, expects to open its doors at 20 E. High St., in early March.
The menu boasts an array of flavored, meal replacement shakes, including types like cookie dough, strawberry shortcake and banana caramel, which are only 200 calories with 24 grams of protein and six grams of carbohydrates, said Wayne Buckalew, husband of owner Jennifer Buckalew.
The Buckalew's saw an opportunity for Krazy Fit Nutrition in Oxford after seeing the success of their friends' nutrition store in Western Hills in Cincinnati. As former residents of Liberty, Indiana, the Buckalews used to come to Oxford constantly, he said. They got to know the community and thought it was the right place to open shop.
Krazy Fit Nutrition is not a franchise, but the shakes and teas offered are made and distributed by a nutrition company, Herbalife, and can be found in other health stores, according to the Herbalife website. 
However, the decision to open their nutrition shop serving Herbalife product was not solely based on it being a good business endeavor.
"We really believe in [the product]," he said. 
Wayne lost 110 pounds in seven months, while Jennifer has lost about 39 pounds and four pant sizes.
While Wayne has frequented the gym and also watched his calories, the meal replacement shakes and thermogenic teas have helped keep the weight off, according to his Facebook post. 
Their weight loss journey is documented on the Krazy Fit Nutrition Facebook page, along with the current Herbalife shakes and teas Jennifer is trying and updates on the store's construction and opening, which the Buckalews hope will be close to March 1. 
"We're just waiting on a permit, but we only have a week and a half of construction to do," he said.
Besides meal-replacement shakes, Krazy Fit Nutrition will also offer thermogenic teas. The teas burn 60 to 80 calories, give energy and help with focus and mental clarity, he said. "Hang 10," "Hawaiian Sunset" and "Blue Thunder" are just a few tropical-flavored teas featured on the menu.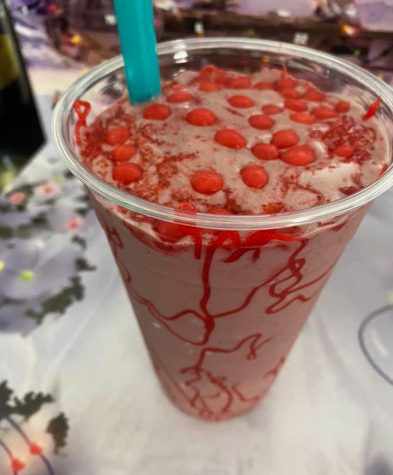 The "coming soon" and "what we serve" signs in the windows have caught the attention of community members and sparked curiosity among Miami students.
"I think it could be good for freshmen that used to be student-athletes and are transitioning from being active every day to possibly worrying about the freshman 15," said Victoria Crabtree, a senior at Miami.
As for COVID-19 precautions, Krazy Fit Nutrition will follow mask ordinances and capacity restrictions like any other business in Oxford. With the storefront only being about 800 square feet, there isn't much room for students and community members to congregate in the first place, he said. 
"We'll be similar to Starbucks with customers coming in and out the door," he said.
The space will have a limited amount of seating; a counter with a couple of spots to sit, a fireplace with two chairs and a table or two with three chairs each. 
With opening day possibly a few weeks away, the Buckalews plan to take call-in orders and provide discounts for students, first-responders and military members when the store opens.