Holiday light displays illuminate Uptown and turns Oxford into winter wonderland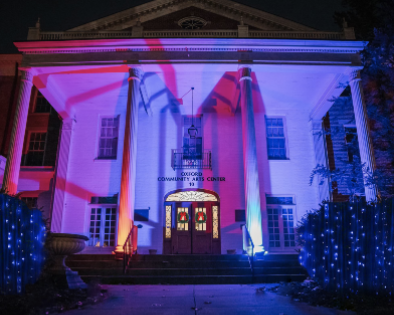 Holiday lights now adorn all the trees that line High Street to signify the beginning of the winter season and festivities in Oxford. The Oxford Night Lights, which started Nov. 28 and will last until Jan. 17, is designed to bring the community together with unique attractions and turn the town into a winter wonderland.
COVID-19 safety precautions are in place: wearing a face mask and physical distancing are still required for all who venture uptown to enjoy the winter experience. 
"We couldn't have the holiday festival as it was traditionally presented in the past because of crowds, so the Oxford Night Lights creates an exhibit to enjoy on your own," said Kim Daggy, executive director of Enjoy Oxford.  
The Oxford Night Lights Passport began Dec. 1 and offers an incentive for customers to shop local this holiday season, visiting shops and businesses uptown. After visiting three participating businesses, participants will be entered to win a prize. After visiting five restaurants, the winner will receive an even bigger prize. The prize will be Oxford themed and will remain a surprise until the winner is announced. 
"We asked businesses who were comfortable with the marketing to have people come into stores or restaurants to get a sticker as part of the passport. By visiting we hope that people will make purchases and will provide some economic stimulus for the whole community," Daggy said. 
Passports can be picked up from either the Enjoy Oxford office or the Oxford Community Arts Center or downloaded and printed at home.
The Oxford Community Arts Center has a display of twinkling lights strung outside with additional installations placed around the grounds. Each week the OCAC will be unveiling a new display for visitors to return and view. There is interactive art, a sensory garden, a five-paneled mural on the Uptown Park pavilion, and more for visitors to enjoy.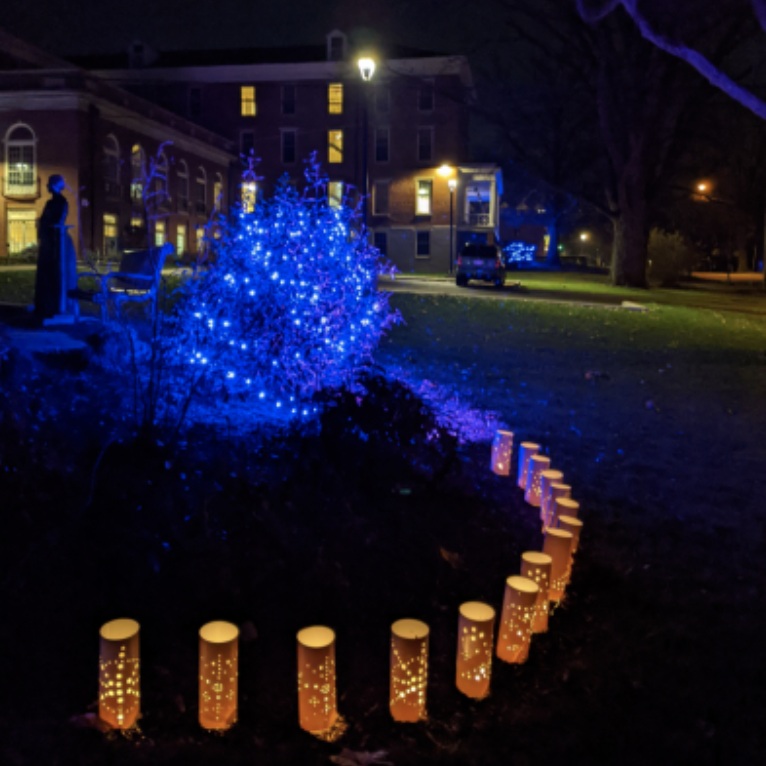 "There are experiences for everyone," said Daggy, "You can sit outside, drive through town to see the lights, and use the passport to promote business as well. It is whatever visitors are comfortable with."
Oxford Night Light murals, painted by local residents, are on display throughout uptown. The murals will change from daytime to nighttime and will glow under blacklights and reveal a different view of the artwork. 
Daggy explained this year the winter programming is more of an experience than an event.
"It is something that you can experience over several weeks so you can come when it is convenient for you," she said. 
The Designated Outdoor Refreshment Area (DORA) has also returned for residents and visitors to purchase alcoholic beverages, including an adult hot chocolate, from participating businesses. Customers can carry their drinks within the designated zone. This includes the pavilion uptown that has been strung with lights and additional seating has been placed in the Uptown Park for nighttime dinner and drinks. 
The DORA will be active each day from 11 a.m. to 10 p.m., following COVID regulations. 
For more outdoor seating, personal igloos will be available in Uptown Park in late December. Sanitization stations will be placed near the igloos to ensure proper cleaning. 
Enjoy Oxford offers a Winter Decor and Dress warm guide on its website, so everyone will be able to participate in the winter-themed activities and support local businesses while staying warm and bundled. 
The Oxford Parks & Recreation Department will organize a drive-thru Santa event from 5 p.m. to 9 p.m. on Saturday, Dec. 5 at the Aquatic Center parking lot, 701 Kay Rench Dr., where everyone can visit Santa from a safe distance. 
"We all worked together. the City of Oxford, Oxford Parks & Recreation Department, Oxford Chamber of Commerce, the Oxford Community Arts Center and Enjoy Oxford, to put this on and it is still a work progress," said Daggy. "The whole thing was to create that Winter Wonderland effect to experience on your own, no matter day or night."
For more winter programming, visit the Enjoy Oxford website to keep updated on all of the holiday activities this season. Use #OxfordNightLights to share photos of the winter festivities.