Cycling picks up speed in Oxford amid COVID pandemic
Oxford's efforts toward a more bike-friendly future gained mileage in 2020 in spite of and perhaps thanks to the pandemic.  
And Paul Reidy.
Reidy joined Miami University as an assistant professor of Kinesiology, Nutrition and Health in the fall of 2019 after moving to town from Salt Lake City, Utah, just months before life changed for everyone. Since his arrival, the 35-year-old husband and father of four has been working to integrate the biking communities of Miami and Oxford while inspiring people to stay active.  
To keep both locals and students involved in the socially distant sport, Reidy started the Miami University Bike Club in August of 2019 and more recently launched a group called Oxford and Area Cycling, catering more to the Oxford community.  
While Reidy's decision to begin the campus club was multi-pronged, his love for the sport is fueling the initiatives. Reidy began cycling at an early age and started to take it more seriously later in graduate school. 
"When I was 7, I had a paper route and I had it until college started, so I biked everywhere on my paper route and that was part of me," he said. 
Cycling even played a role in his marriage to Mollie Reidy. After he totaled his car the summer he planned to propose to her, he had to bike everywhere. "I was going to actually drive to Michigan that summer and propose…I couldn't drive so I decided to bike there — 237 miles," he said. 
Reidy recounted training for the trip, reasoning that "…if (I) went that far, she would not say 'No'." 
Reidy, who bikes around 9,000 miles per year, created Miami's bike club to introduce students to biking and inspire them to stay active and be healthy. 
"Students need outlets, especially now. Why not provide them an opportunity to use these things and train them how to do it and open their eyes to other opportunities where they can socialize?" he said. 
While the club has not fully taken off yet, Reidy said that Miami's Student Life office, which works to engage students in campus culture, showed interest in promoting the club as early as the spring semester of 2021. 
The Oxford and Area Cycling Club, meanwhile, has been a huge hit. Launched in January with 20-some participants, the group now has over 120 members, Reidy said. Following the COVID-19 lockdown, "people realized that 'Hey, this is one of the few things we can do' and so that's been really cool to see," Reidy explained.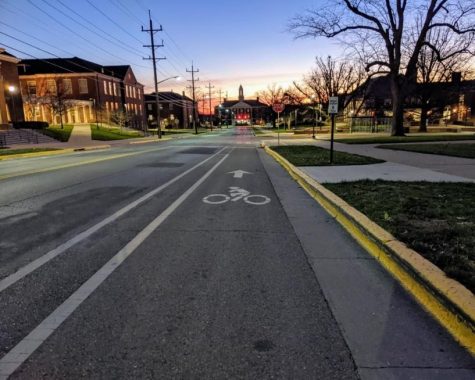 Since 2016, when Gregory Crawford became president of Miami, the push for more bike lanes on campus and around town has helped fuel local enthusiasm for biking. Crawford and his wife, Renate, have completed five "Road to Discovery" rides, totaling almost 15,000 miles, to raise money for research on Niemann-Pick Type C disease, a neurological disorder. As cycling is a part of their lives, they've sought to incorporate it into the Miami culture as well. In 2018, Miami was recognized as a Bicycle Friendly University by the League of American Bicyclists.
In addition to about 7.5 miles of bike lanes on its main streets, the City of Oxford recently finished phase two (out of four) of the Oxford Area Trails System, which upon completion will total 12 miles of walkable and bikeable trails around the city's perimeter.  
Reidy is keen on pushing cycling safety, in addition to promoting cycling as a healthy activity for students.
"One thing I've noticed many times on campus is there are plenty of examples of poor choices with bike habits," he said. "Last year…a kid was going the wrong way on the wrong side of the street and cut off right in front of a police car on his bike." 
Miami graduate engineering student and Bike Club member Dave Pearl is among the newer cyclists in Oxford. Whereas Reidy grew up with cycling, Pearl was introduced to it after his dad gave him an old bike to ride to classes. 
"It was faster than walking," Pearl confessed. "My buddy was into biking and made a couple comments about how there was a 'sweet old Cannondale' locked up outside, and I had it in my head that my dad told me that's what I was riding." 
Sure enough, Pearl came to find out that he was riding a "very cool" 1992 Cannondale SR400, which caught his interest and helped develop his love for mountain biking. 
Today, Pearl can't seem to get enough of the sport. He owns four bikes (in addition to a fully functioning car), and helps out at the local bike shop, BikeWise Oxford. 
"There are lots of ways to ride a bike. The way I like to ride is as fast as I can and very competitively," Pearl said. "It keeps me outside, and it keeps me active. Around Oxford, too, sometimes it's a lot faster and more interesting… especially around 4 or 5 o'clock."
Reidy said that although Oxford is small and bike-friendly, surveys have shown that about 40% of people who live within a mile of Miami still drive to campus. 
Pearl, meanwhile, favors travel by bike. "In this world we run from discomfort and pain and everything, but hopping on a bike is cheaper, easier, better for you, better for the environment, better for the town, and at the worst is a little bit uncomfortable. The pros outweigh the cons."
But student bikers do create at least one problem for Oxford: too many abandon their bikes every spring when they leave campus. 
As a solution, Miami's Strategic Procurement office, in conjunction with the Miami Police Department, hosts an annual bike auction.  
The auction's purpose is two-fold, according to Brent Leishman, assistant director of strategic procurement. "Essentially what happens every year is when the students are graduating in May and they leave, the bicycles that are left around campus outside of the building are rounded up by the Miami Police Department," Leishman said.  
The bikes are held for approximately three months to allow the students an opportunity to retrieve them, before they are auctioned off. 
"The bikes are auctioned off and the proceeds of that go to MUPD to offset their effort and their cost in rounding up and storing the bikes," Leishman said. 
MUPD Sgt. Andy Rosenberger, who has been with the department for 18 years, recently took on the role of bike patrol officer. 
"There are usually anywhere between 100 and 250 bikes that get rounded up," he said. "It takes about two full days of three or four officers going around campus collecting them."
This year's auction, which was held a little bit later than normal on Oct. 10 due to the university's five-week, remote-learning period, resulted in nearly $5,000 in profit, while last year's auction turned out over $8,700, according to MUPD records. 
The auction is a practical way for students to get their hands on cheap, second-hand bikes, which is a rare opportunity in the midst of a world-wide, COVID-induced bike shortage.  
Reidy hopes more students will take advantage of biking going forward – whether with their own bikes or ones they buy in the auction.
"This is one of the great opportunities for students to get out," he said. During the pandemic, "There's a lot of restrictions, but this is one thing where you can find freedom.  You just need a bike."